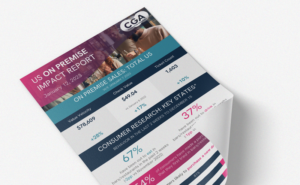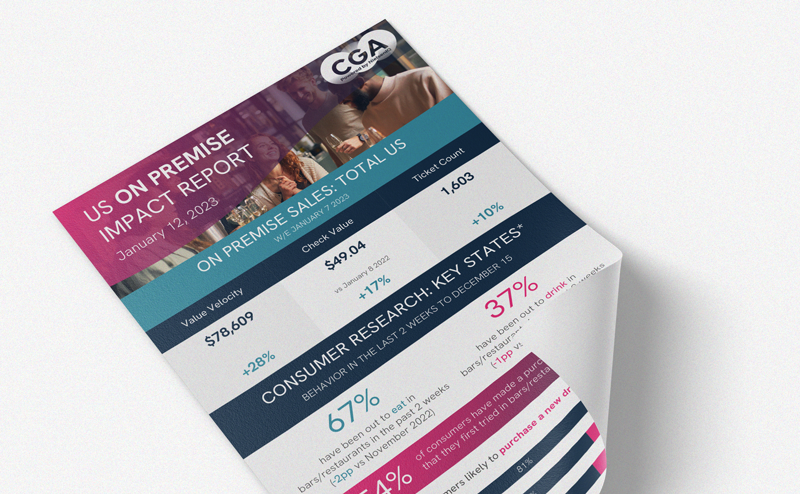 Traditionally NFL's biggest game of the year is not seen as an On Premise event, however CGA by NielsenIQ's latest consumer research highlights that 3 in 10 US consumers are planning to visit bars and restaurants to watch it. The most popular venue is set to be Sports bars, with almost half of these consumers planning to visit this outlet type. In 2022, BeverageTrak data reveals that the big game saw drinking outlets perform significantly better than the average Sunday with a +36% increase in traffic, resulting in a +10% uplift in velocity. As expected, Sports bars gave a strong performance, with a +70% increase in ticket count versus the average Sunday, with both Spirits (+68%) and Beer (+23%) seeing an impressive uptick.
CGA's BeverageTrak solution combines powerful datasets to provide an ultra-granular view of how brands and categories are being consumed, when and at what price. Featuring day and daypart tracking, this enables sales and marketing teams to measure performance and activation ROI to develop effective strategies.
Last year's strong performance across the Beer and Spirits categories aligns with the up-to-the-minute consumer research CGA conducted over the first week of February, which highlights that Beer is the drink of choice for most consumers for this event, while around 1 in 3 consumers are planning to drink shots, and around a quarter are opting for Cocktails.
NFL's big game can also be a crucial time for drinks brands, with 94% of consumers stating that if they saw a commercial during the game for an alcoholic drink brand they hadn't tried before, they would be likely to drink it, with 56% planning to trial in the On Premise.
Previous CGA research has demonstrated the opportunities that Sports betting provides, with consumers likely to stay longer in venues when they're betting on sporting events. For Sunday's big NFL event, 44% of viewers are planning to participate in fantasy sports betting or sports betting via mobile app in the On Premise, with New York over-indexing by 11 percentage points. The majority of viewers are more likely to bet on the big game, compared to other games, while 90% of those planning to take part in sports betting state that this activity would keep them at a venue longer to watch the full event. These consumers are also more likely to order more drinks if they watch a game that they've placed a bet on, and a successful bet would also prompt them to stay longer at the venue for another drink.
Andrew Hummel, Client Solutions Director – North America, said: "While CGA's previous research has explored the importance of sporting occasions in the On Premise, Sunday's big game marks one of the biggest opportunities for drinks brands and operators. Consumers are highly likely to engage in sports betting, which prompts a greater number of drinks purchases, and those who engage with drinks brands commercials are keen to trial these drinks choices in the On Premise. Sports bars will see a boost, and while beer will be at the forefront of consumers' minds, there's opportunities for categories such as Spirits too, with CGA's Channel Strategy study providing insights across this outlet type, along with 10 other unique On Premise channels."
To learn more about CGA by NielsenIQ's consumer research, BeverageTrak solution, or their Channel Strategy report, with its insights into Sports bars, Arenas/Stadiums, Casual Dining Chains, Fine Dining and more, contact Andrew Hummel at Andrew.hummel@cgastrategy.com