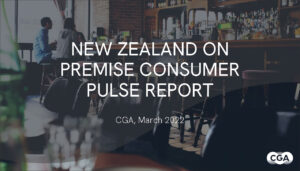 CGA's On Premise Consumer Pulse checks in with 500 New Zealand On Premise visitors every month to understand their recent behaviour, how they feel about the channel (including any COVID-19 restrictions) and their intentions for visits in the month ahead.
This month's research highlights that consumers in New Zealand continue to feel cautiously optimistic as they return to the On Premise, but COVID-19 concerns and ongoing restrictions continue to play a part in reduced visitation. Meanwhile polarisation is setting in, with many consumers opting for premium options to treat themselves whilst others are choosing value brands as they deal with the increased cost of living.
While there is some reticence, the New Zealand On Premise is on the road to recovery, with 87% of consumers visiting venues over the last month, however most visits are centered around food with drink-led occasions losing some traction (-4pp versus last month).
Although more than half of consumers have continued using the On Premise in line with their normal habits, just over a third are visiting less than usual with COVID-19 remaining the driving factor behind this apprehension, followed by existing restrictions. In good news for the sector, consumers are planning to visit the On Premise more often in the month ahead for both food (86%) and drink-led (50%) occasions.
With visitation slowly returning, many consumers are looking to treat themselves with 1 in 4 purchasing a premium drink in the last month. However, increases to the cost of living have also led over a third of consumers to opt for value drinks and brands when they visit the On Premise. For these consumers, suppliers should be working closely with operators to identify how to appeal to these groups and target promotional activity to drive increased footfall and spend.
In terms of serves, more Kiwis are opting for beer and wine over spirits and cocktails, however the intent for the month ahead shows an uptick for these categories. Give the operational benefits of pre-batched cocktail programs, this is an opportunity for many operators given 76% of consumers are aware of this offering and over a third already order them. Consumers do see batched cocktails as better value-for-money, so a well-designed program can strike a nice balance for the, sometimes contrasting, consumer needs of the cost-conscious consumer looking for to treat themselves and/or celebrate.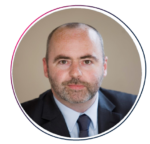 CGA's managing director, Americas and Asia Pacific, Scott Elliott said: "Globally we are seeing this trend towards polarisation amongst On Premise visitors, and while some New Zealand consumers are looking to treat themselves, others are facing the challenge of reduced disposable income. Key to attracting bargain-hunting visitors to the channel will be targeted drinks promotions. In many markets at this stage of recovery, we have seen reticence from operators to run promotions with the goal to maximize visit spend after a prolonged period of poor traffic.
For many thrifty consumers however, the way to drive traffic in the first place is via interesting promotions and specific events…all hosted in an overtly safe (COVID-related) and professionally managed environment of course. In contrast, those looking for premium options will respond well to upselling strategies now, albeit new tactics are required to do this effectively given a vastly changed in-venue Path to Purchase"
To learn more about CGA's consumer research and market measurement services across New Zealand, please contact Scott Elliott at scott.elliott@cgastrategy.com