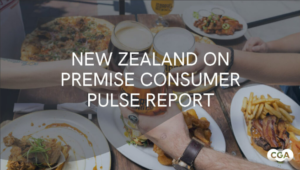 The New Zealand On Premise Consumer Pulse checks in with 500 consumers every month to understand their recent behaviours, how they feel about the channel (including any COVID-19 restrictions) and their intentions for visits in the month ahead. July's research reveals visitation to the NZ On Premise has remained steady, with the already dominant food-led occasion gaining even more momentum – and consumers predicting this to continue for the remainder of winter. Although last month, cost-of-living concerns out-paced COVID-19 related concerns for those visiting the channel less, this month the pandemic once again comes to the fore.
Likely influenced by Dry July, no and low alcohol options have seen an increase versus the previous month, with beer drinkers making the switch for lighter formats. Full-strength beer (4.5%+ ABV) dropped 3 percentage points versus June, while mid-strength (3.5% – 4.5%) and non-alcoholic beer (under 3% ABV) gained 2 and 4 percentage points respectively.
July's research also highlights that 56% of New Zealand consumers remain loyal to the exact same drink for the entirety of their visit. These consumers on the whole do so because it's their preferred brand (43%), out of habit (42%) or to ensure they're enjoying consistent quality (25%).
Those consumers who tend to switch drink categories are looking to experiment and trial new categories (43%), get bored of drinking the same category (31%) or like to try out menu recommendations (25%). Whereas if a consumer is switching brands within their drink choice, rather than an overall category, they are often enticed by promotional deals on certain brands at specific times of the day (27%).
Not only does value-for-money encourage consumers to re-purchase the same drink, it also has a direct impact on word-of-mouth – encouraging consumers to share the experience with their close network such as friends and family (60%) and social media (15%).
James Phillips, Director of Client Solutions: Asia Pacific, said: "With over half of New Zealand consumers staying loyal to the same drink and brand when in the On Premise, winning the first drink in venue is key to promoting brand loyalty across their visits. The cost of living crisis is also likely to continue shaping consumer behaviours in the coming months, with value for money currently ranking as the most significant factor in maintaining consumer loyalty to brand and/or category in the On Premise. This need for value-for-money is important across all categories for two-thirds of consumers so pricing strategies and promotional budgets should be carefully considered by both suppliers and operators. This is just one example of how consumer behaviour has evolved and at CGA, we'll continue to assess the situation in light of the increase in cost of living, to ensure our partners have access to actionable insights that measure the implications for the On Premise channel."
Click here to download the latest New Zealand On Premise Consumer Pulse – https://cgastrategy.com/new-zealand-on-premise-consumer-pulse/
To learn more about CGA by NielsenIQ's consumer research and market measurement services across both Australia and New Zealand, please contact James Phillips at james.phillips@cgastrategy.com