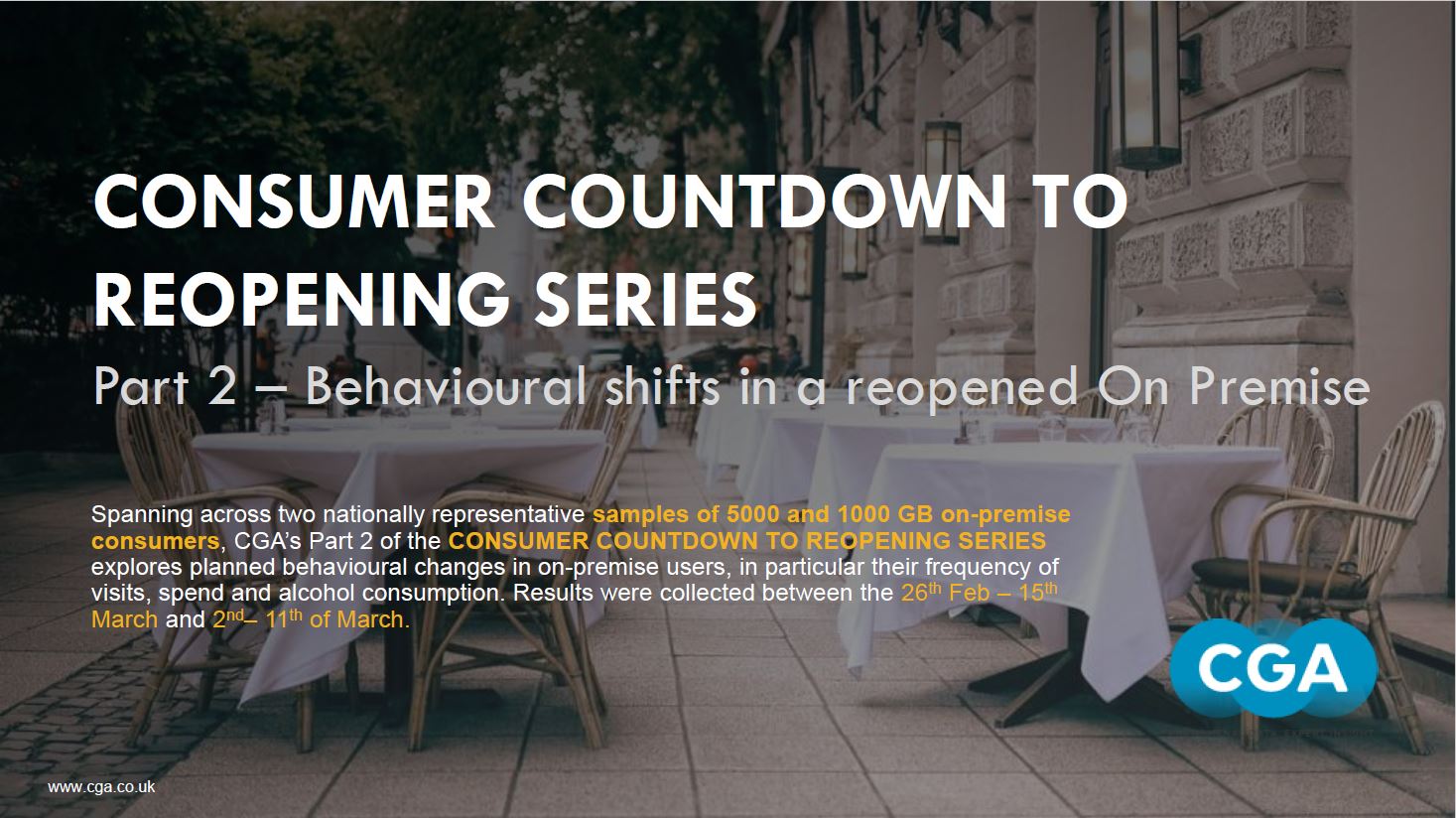 The four-part series of insights uses CGA's latest consumer research to track crucial shifts in behaviour when the On Premise reopens for outdoor service from 12 April. It shows a widespread appetite to make up for lost time in pubs, bars and restaurants, with more than a quarter (27%) of consumers in Britain planning to spend more time there than they typically did before COVID-19.
At the other end of the scale, 19% of consumers plan to visit hospitality venues less often than before the pandemic. As well as remaining concerned about safety, some of these people may intend to continue their lockdown habits of recreating On Premise experiences at home, and will need to be given extra reasons to come out.
The eager cohort is led by young adults who were already regular users of hospitality. More than half of those planning to spend more time in venues are aged 18 to 34, and they typically spend £95 a month on eating and drinking out—£12 more than the average On Premise user. Women and city residents also over-index in this group.
Among those planning to visit less often, people in the 35 to 54 year-old age group over-index, as do those who visited the pre-COVID-19 On Premise less often, and those from less affluent backgrounds.
There is a similar divide in likely spending in the market, between those ready to reward themselves after lockdown and those keeping a close eye on their finances. A fifth (22%) of consumers intend to spend more money, while 13% will spend less.
The first part of the Consumer Countdown to Reopening research also showed a split in consumer opinion between those confident enough to head out again immediately in mid-April and those needing more reassurance about safety.
The consumer landscape has been changed in some very important ways—not least the divergence between those ready to splash the cash and those watching the pennies very carefully," says Rachel Weller, CGA's head of consumer research and marketing.

"People who have saved money will be ready to treat themselves as soon as they can, but those who have endured hardships or have got used to at-home experiences will need to be tempted by something they can only get in the On Premise. Understanding these motivations and demands is going to be pivotal to a successful reboot of the market for operators and suppliers alike."
The Consumer Countdown to Reopening research identifies many more important shifts in intentions after lockdown, including a divergence in alcohol consumption. It indicates that 12% of On Premise users will drink more alcohol when out than they did before COVID-19, while 18% will drink less. Alongside the 13% of On Premise users who don't intend to drink alcohol at all, this is a positive sign for the no and low alcohol drinks sector.
To read highlights of the second Consumer Countdown to Reopening report, click here.
To learn more about CGA's exclusive Consumer Countdown to Reopening series and how it can help all businesses understand the habits and demands of the post-lockdown market, please contact charlie.mitchell@cga.co.uk.