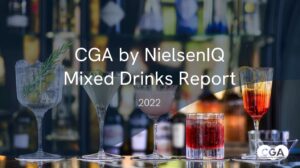 Here are five insights from CGA by NielsenIQ's suite of research services that reveal the size of the prize and drinkers' preferences.
1 Rapid growth
Cocktails have surged in popularity in Ireland since the end of COVID-19 restrictions. CGA's On Premise User Survey shows more than a third (36%) of consumers now drink them in the On Premise—a sharp rise of eight percentage points in just 12 months. A third (34%) of these cocktail drinkers say they are buying more cocktails than they were a year ago—a good illustration of the pace of growth in mixed drinks.
2 Classic serves most wanted…
The list of preferred cocktails in Ireland's On Premise is led by tried-and-trusted favourites. More than half of drinkers prefer classic serves like the Mojito.
3 … And strawberry the top flavour
OPUS data also shows that fruity flavours dominate cocktail drinkers' preferences. Strawberry is their top flavour, followed by passionfruit and raspberry.
4 Big opportunities in special occasions
Nearly half (45%) of consumers say they chose cocktails over other drinks categories because they seem them as a treat. Meeting the needs of people who are happy to spend on special occasions can unlock maximum sales.
5 Price matters
While quality is crucial, CGA's OPUS research also highlights the importance of value. Price is the number one barrier to consumers purchasing cocktails, so changing their image as an expensive choice can help to broaden the customer base—and that will become even more important as the cost of living crisis mounts.
"Cocktails have been a boom category in the On Premise for several years now, and there's no sign of the growth easing," says Sian Brennan, CGA by NielsenIQ's client director, Ireland. "Optimising range is key to success here, and it's vital to find the right balance of quality and value, and of classic and new cocktails. Competition in mixed drinks is intense, and suppliers that stay right on top of drinkers' changing tastes and motivations have an invaluable head start in the battle for market share."
CGA's Mixed Drinks Report is available now. It contains deep insights into consumers' interaction with the mixed drinks category across hospitality venues in both the Republic of Ireland and Northern Ireland. It helps suppliers and operators answer category, channel, occasion and brand questions of mixed drinks and cocktail consumers and helps optimise sales and marketing strategies.
Download more information about the Mixed Drinks report here.
To get the Mixed Drinks Report or learn more about how it can support strategies, email sian.brennan@cgastrategy.com.