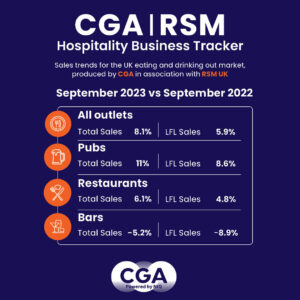 The Tracker, which is produced by CGA by NIQ in partnership with RSM UK, indicated like-for-like growth of 5.9% last month—close to both the Tracker's August figure of 5.3% and the general rate of inflation in the UK.
Above-average temperatures in many parts of the country made it a strong month for pubs, where sales grew 8.6% as many consumers enjoyed visits to beer gardens and terraces. Growth in the restaurants sector was a little lower at 4.8%, while bars had another challenging month, with sales down by –8.9%.
Groups' year-on-year performance has been better in London than the rest of the country ever since September 2022, and sales growth within the M25 again beat the average at 6.1%. However, with trading beyond the M25 up by 5.8% last month, the gap between the two regions has closed.
The new figures are taken from the first edition of the CGA RSM Hospitality Business Tracker, which was previously known as the Coffer CGA Business Tracker. CGA by NIQ collected sales figures directly from 93 leading managed groups for September's report.
Karl Chessell, director – hospitality operators and food, EMEA at CGA by NIQ, said: "A cool August made for a good month for restaurants, but better weather in September flipped the fortunes in favour of pubs. Overall growth of 5.9% represents another solid performance for managed groups, and shows consumers remain eager to eat and drink out. Ongoing high inflation and interest rates continue to make conditions difficult for many businesses and consumers alike, but we can be cautiously optimistic about a strong final quarter and festive season."
Paul Newman, head of leisure and hospitality at RSM UK, said: "Despite recent reports that consumers are beginning to pull back on discretionary spending, an unseasonably warm month and the start of the Rugby World Cup have come together to drive strong spending in pub and restaurant groups in September.
Consumer confidence rose to its highest level in almost two years last month and looking beyond the standard downbeat headlines, it's not too hard to see why. Real wage growth has turned positive again, interest rates appear to have peaked sooner than expected and inflation looks set to fall further. Operators will be hoping that these positive vibes continue as we approach the all-important festive trading period."
Companies participating in the CGA RSM Hospitality Business Tracker receive a fuller detailed breakdown of monthly trading. To join the cohort, contact Andrew Dean at andy.dean@nielseniq.com
Participants in the CGA RSM Hospitality Business Tracker include: Adventure Bars, Adventure Leisure Ltd, All Star Lanes, Amber Taverns, Anglian Country Inns, Arc Inspirations, Azzurri Group (Ask Italian, Zizzi), Banana Tree Restaurants, Beds and Bars, Big Table Group (Bella Italia, Las Iguanas), Bill's Restaurants, Bone Daddies, Boxpark, Brasserie Bar Co, BrewDog, Buzzworks Holdings Group, Byron,  Coaching Inn Group Ltd, Comptoir Group Plc, Cote Restaurants, Darwin & Wallace, Dishoom, Dominion Hospitality, Five Guys, Fortnum & Mason, Fuller Smith & Turner, Gaucho Grill, Giggling Squid, Greene King (Chef & Brewer, Hungry Horse, Flaming Grill), Gusto Restaurants, Hall & Woodhouse, Hawthorn Leisure,Honest Burgers, HOP Vietnamese, Individual Restaurants, Island Poké, Junkyard Golf Club, Kibou, Laine Pub Co, Le Bistrot Pierre, Liberation, Lina Stores, Loungers, Marston's, McMullen & Sons Ltd, Mildreds, Mitchells & Butlers (Harvester, Toby, Miller & Carter, All Bar One), MJMK Restaurants, Mowgli, Nando's Restaurants, New World Trading Company, North Brewing Co, Oakman Inns, Parogon Pub Group, Peach Pubs, Pho, Pizza Express, Pizza Hut UK, Portobello Starboard Ltd, Prezzo, Punch Pub Co, Pure, Rekom UK, Restaurant Group (Frankie & Bennys, Chiquitos, Brunning & Price), Revolution Bars, Rick Stein Restaurants, Riley's, Rosa's Thai, Rola Wala, San Carlo, Shepherd Neame, Simmons Bars Group, Snug Bar, Southern Wind Group (Fazenda),  St Austell, Star Pubs & Bars, State of Play Hospitality, Stonegate Pub Co (Slug & Lettuce, Yates', Walkabout, Bermondsey Pub Company),TGI Fridays UK, The Alchemist, Tortilla, Tonkotsu, True North Brew Co, Upham Pub Co, Various Eateries (Strada, Coppa Club), Village Hotels, Wagamama, Wasabi,  Whitbread (Beefeater, Brewers Fayre, Table Table), Wingstop, YO! Sushi and Young's.