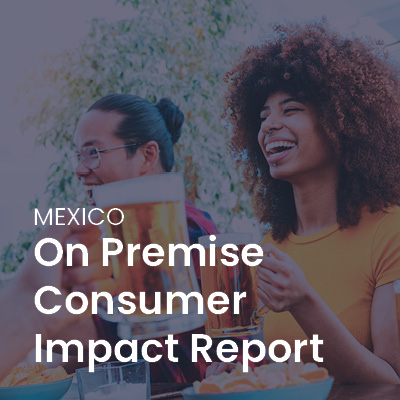 This includes potentially rich pickings for Father's Day just around the corner, plus an ongoing schedule of music and sporting events, enabling brands and operators to plan and implement short and longer terms strategies for sales success.
While visitation is down, satisfaction amongst consumers remains high. Food-led visits are especially holding firm, driving 7 in 10 consumers in to bars and/or restaurants in the past two weeks, with 49% of consumers visiting just for a drink. However, the frequency of visitation to venues remains positive, with half of consumers visiting at least three times in the past month, and over 4 in 5 doing so in the past quarter. What's more, 95% have expressed satisfied with their overall experience in the On Premise.
Music festivals and large sporting events continue to be massive opportunities for drinks brands and operators to maximise on the higher footfall levels these occasions generate. A hefty 76% of consumers are likely or very likely to attend a popular music festival during the coming year. This includes 44% intending to party at Vive Latino and 35% at Corona Capital.
So, what drinks will festival-goers be relying on to sharpen their vocal chords? Beer is the top drink category for over 3 in 4 consumers, plus 48% quenching their thirst with soft drinks, and a further 30% getting the party started with tequila.
In the shorter term, 37% of consumers plan to visit a stadium or arena in the next three months. 63% of these visits are sports-related, with almost two thirds of these visits driven by international football matches. In addition, a similar volume of consumers are heading to arenas and stadiums to see the biggest names in music and live entertainment.
How does this translate to drinks and On Premise visitation? In terms of drinks categories, it's a similar scenario to the festival crowd, with 77% expecting to drink beer, and 51% adding soft drinks into the mix. Visits are more likely to involve food beforehand, they are primarily drink-led afterwards.
The immediate outlook is bright for food-led visits, with 69% of consumers planning to eat out in the next two weeks, compared to 54% planning to go out solely for a drink. Father's Day plays a key role in shaping these metrics. Of the 7 in 10 consumers planning to visit the On Premise to celebrate the occasion, a significant 88% are heading to restaurants versus 27% to bars. This highlights a standout window for leveraging the overwhelming consumer preference for restaurant visits, rather than bars and cafés, which are the next most popular channels.
Mike Rende, Associate Client Solutions Manager – Americas said: "The latest impact report draws clear attention to key windows of opportunity for brands and operators to laser target specific occasions and product preferences, in both the short and longer terms. Music and sporting events are longstanding drivers of supplementary footfall and sales in the On Premise, enabling strategic offerings in terms of directing product promotions to receptive audiences at the right times. This might include initiatives for premiumization, by promoting increasingly popular non-alcoholic cocktails and non-alcoholic drinks as alternatives to traditional soft drinks."
CGA by NIQ's Mexico On Premise Consumer Pulse Report tracks key metrics in the On Premise and explores hot topics as they arise. The latest update covers new research into the Mexican On Premise, looking into topics such as past, current and projected future visitation. Download the report here or for more information, contact mike.rende@nielseniq.com.