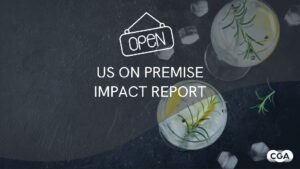 The report revealed that 7 in 10 consumers have visited restaurants and/or bars for food-led occasions and more than 2 in 5 have done so for drink-led occasions. In the report it shows the visitation behaviours across a range of venues over the past 2 weeks.  
50% of consumers have visited a casual dining chain and 44% have visited Independently owned restaurants. Unsurprisingly, the most popular days to visit area Saturdays for independently owned restaurants, and Fridays for casual dining chains, with early evenings being the most popular time to visit for both venues.  
For both types of venues, beer is the most popular drink choice, with 26% of visitors ordering it in the past 2 weeks, however one of the notable differences between the two venues is Wine – which is a more popular choice for those visiting independently owned restaurants, with 28% of consumers opting for a glass compared to 20% of consumers when visiting casual dining chains. 
Most venues in the report have something in common – Fridays and Saturdays being the most popular day for On Premise visitation. Hotel bars see a high percentage of visitors on a Saturday and Sunday with 39% on both days and 38% of consumers visiting in the late evening. 42% of visitors choose cocktails as their drink of choice when visiting hotel bars, and 24% of consumers opt for a shots.  
Previous CGA research highlighted the opportunities for beverage sales in US hotel bars and the behaviour changes triggered by the COVID-19 pandemic. Among consumers who planned to visit luxury hotels, 59% of visitors anticipated using amenities such as hotel bars. 
When it comes to travel, it Airport bars see vastly different visitation trends compared to other channels – with the most frequented days in the two week period being Wednesdays  (33%) and Thursdays (32%). The top 5 alcoholic drink categories consumers choose to drink while at airport bars consist of Wine, with 35% of consumers making this their drink of choice, followed by 31% drinking Beer, 28% are opting for Hard Seltzers, 26% order Shots and 26% choose Ready to Drink beverages. 
Intriguingly, experiential bars experience a steady pace throughout the week, with Friday and Saturday still being the most visited days, and the early evening the most popular visiting time at 43%. However, the report shows an uplift on Wednesdays with 29% of consumers choosing to visit mid-week. This coincides with the 44% of US consumers who are back in their place of work full-time or part of the time, and with 1 in 4 of those that are back in work visiting the On Premise for after work drinks on a weekly basis.  
Matthew Crompton, CGA Regional Director – North America, said "These insights are just a small part of the analysis we can provide as part of our Channel Strategy research, which will be available from August. The research includes a series of targeted reports providing insights into channels which are often difficult to read, such as casinos, stadiums and nightclubs and offers data all the way down to brand level ." 
The Consumer On Premise Impact Report is a consumer research report tracking and reflecting on how consumers currently feel about the On Premise, and how the sector can position its offering to increase visitation. The latest On Premise Impact Report by CGA, along with other special reports issued over the past several weeks, can be found here. 
For more information on CGA's Channel Strategy research, please contact Matthew Crompton at Matthew.Crompton@cgastrategy.com