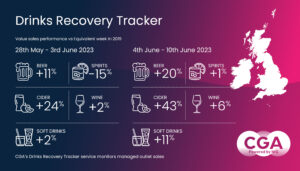 CGA by NIQ's Drinks Recovery Tracker reveals a 15% jump in sales in managed venues in the week to last Saturday (10 June), compared to the same week in 2022. There was double-digit growth on five of the seven days, peaking at +29% on Wednesday (7 June)—a particularly sunny day that also brought football fans out to watch the final of the Europa Conference League featuring West Ham. Saturday's Champions League final involving Manchester City helped to produce a 15% spike. 
As is usually the case in hot weather, growth was strongest in the beer (up 20%) and cider (up 43%) categories as drinkers sought refreshment in longer serves. Soft drinks (up 11%) and wine (6%) recorded solid increases, but the spirits category (up 1%) was much more muted against tough comparatives. 
The strong start to June followed a more modest end to May. Total drinks sales in the week to Saturday 3 June were 4% ahead of the equivalent week in 2022, largely driven by high growth on the Sunday and Monday of the Bank Holiday weekend. As with last week, the beer (up 11%) and cider (up 24%) categories comfortably outpaced wine (up 2%), soft drinks (up 2%) and spirits (down 15%). 
The most impressive aspect of the week was how the On Premise overcame the impact of rail strikes. Despite widespread industrial action, venues achieved year-on-year growth of 28% on Saturday 3 June, with LAD categories benefiting from the FA Cup final as well as the hot weather.  
After a modest first quarter of the year, CGA's Tracker has now recorded year-on-year growth in drinks sales for seven weeks in a row, thanks to the sunshine and a succession of public holidays. 
Jonathan Jones, CGA's managing director, UK and Ireland said: "It's very encouraging to see sales growth finally move past the rate of inflation. Pubs with outdoor spaces always flourish in the sunshine, and the heatwave has been particularly good news for LAD brands. It's clear that consumers remain very keen to drink out and are overcoming the inconvenience of rail strikes to do so. While some people are keeping a close eye on their spending, these figures bode well for the rest of the summer—especially if temperatures stay high."
CGA's Drinks Recovery Tracker monitors managed outlet sales as the drinking-out market continues to recover, providing category, supplier and brand rate of sale performance. Suppliers and operators that want to track the recovery of drinks sales, benchmark performance or identify changes in trends and consumer preferences should contact Jonathan.Jones@nielseniq.com.