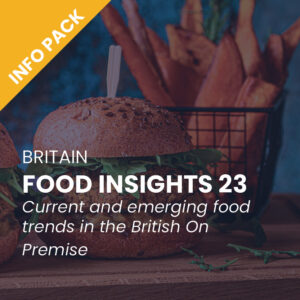 The exclusive research highlights the ongoing demand for desserts in Britain's restaurants, pubs and bars, with more than a third of guests ordering them every time or most times they are out. With just over two in five consumers buying desserts on impulse most or all of the time, there is a clear opportunity to tempt purchases with tactics like menu planning, promotions and recommendations. Indulgence is another powerful motivating factor, as a third of consumers say desserts are most likely to encourage them to buy treats when eating out.
CGA's 2023 'Food Insights' report delivers many more actionable insights into the dessert market, including consumers' most wanted menu choices. Cheesecake ranks first, as the most popular menu option, and other classic British choices remain popular as well. Vanilla and chocolate are still the two most popular flavours of ice cream.
However, many dessert buyers are becoming more adventurous in their selections. Just over half find the idea of fusion desserts appealing and one in six is willing to try savoury desserts. Wheelcakes and deep-fried ice cream are just two of the examples of emerging trends identified by the research.
The 2023 'Food Insights' report gives On Premise businesses the intelligence they need to understand guests' preferences, stay ahead of the curve and maximise sales. It provides deep dives into many more aspects of eating out, including frequency, occasions, mindful diners, and emerging trends and cuisines.
James Ashurst, CGA's client director – foodservice, says: "The cost of living crisis has put consumers' spending under pressure, but it's clear that appetite for desserts remains very strong. But to win in this competitive landscape it's more important than ever for suppliers, wholesalers and operators to understand the desserts that are performing best and craft appealing menus. Our 'Food Insights' report is here to help all businesses make the most of emerging opportunities and innovate to stay ahead of the competition."
The full 'Food Insights Report' is available now, with discounts available for purchases of multiple reports in the series—including research dedicated to snacking, calorie information and hot beverages. To learn more, click here and email James Ashurst at james.ashurst@nielseniq.com