Click here to read this article in German
Klicken Sie hier, um diesen Blog auf Deutsch anzuzeigen.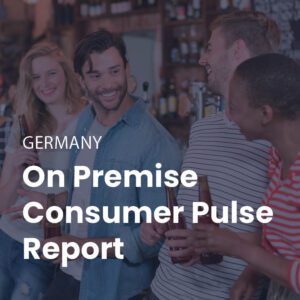 The research provides a monthly snapshot of trading conditions and consumer habits, and is essential reading for all drinks, suppliers and manufacturers. It reveals that 89% and 50% of Germany's consumers went out to eat and drink respectively in July—but while 20% say they are going out more often than usual, nearly twice as many (37%) are going out less—primarily because of cost of living concerns and increased prices.  
CGA's report dives deep into Germany's On Premise to highlight key summer trends and help suppliers achieve growth. Here are just five of the many insights.  
1 Young urban professionals spending most 
Although some people are cutting their visits, Germany still has a loyal core of On Premise consumers, led by young, urban-based and relatively affluent professionals. Of those going out more often, just over half (52%) are aged under 34 while 67% live in city or town centres—21 percentage points more than the all-consumer average. These visitors' average household income is around €45,909, which is €5,700 higher compared to those consumers who are going out less frequently.  
2 An interest in treats 
The cohort of regular On Premise visitors are ready to spend over the summer. Two in five (42%) of those who are going out more often say they are treating themselves, while well over a quarter (28%) have been trying new places. With nearly a third (31%) drinking more serves than usual while on holiday, there is good potential for trade-ups here. 
3 Surge in cocktails and soft drinks 
Sizeable numbers of consumers say they drink more cocktails (40%) and soft or hot drinks (38%) while on holiday, making them the two most over-indexed categories. When considering drink serves, nearly a third (31%) of consumers' drinks consumption is slightly/much more while on holiday. 
4 A strong summer for beach bars and hotels 
CGA's analysis of summer habits shows that casual dining restaurants are consumers' top venue on holiday, while beach bars and hotels heavily over-index for visits compared to other times of the year.  
5 Pilsner reigns in beer 
Beer remains the most popular category in Germany's On Premise by some distance, and two in five (40%) consumers say they drink more of it than usual on holiday. Three in five (60%) consumers have bought pilsner in the last month, putting it well clear of the next two top picks, wheat beer (34%) and helles (29%).
Bilal Kaddouri, CGA by NIQ's Client Solutions Director – Germany, said: "The cost of living crisis has had a sizeable impact on German consumers' spending in 2023, but the On Premise still has a huge core of loyal drinkers and diners. With fierce competition for guests' spending, suppliers and operators need an expert and up-to-the-minute understanding of people's habits. Our consumer research builds the perfect foundations for successful On Premise strategies—not just over the rest of the holiday season but all year round." 
You can download the August German On Premise Consumer Pulse Report for free here.
CGA by NIQ's consumer research delivers many more exclusive insights into consumer habits and preferences in Germany's On Premise, helping suppliers, manufacturers and operators to craft successful strategies and gain market share. The OPUS Select service also offers bespoke research to help businesses explore specific topics, categories, channels, occasions, demographics and more. OPUS Core subscriptions provide deep dives into consumers' behaviour with granular detail and analysis of how key trends are impacting the sector.  
To learn more about CGA's OPUS in Germany and how it can help your business, please email bilal.kaddouri@nielseniq.com.