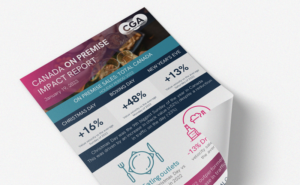 The report found that 2 in 5 consumers said they're very likely/likely to visit an outdoor festival or concert in 2023. Looking at the drinks categories most likely to be consumed at a festival/concert in 2023, Beer held the top-spot with over half (55%) of consumers opting for the drink, followed by Soft drinks, Vodka and Whiskey. However, there's opportunities for Ready-to-drink alcohol (19%), and Hard Seltzers (17%), like beer, their portability is a big driver for festivals.
Of those consumers who have been to an outdoor festival/concert within the past year, the research also explored their drink brand loyalty. Over half (58%) stated they drank their usual brand and continue to drink it in the On Premise, while 31% of festival-goers tried a new brand and will continue to drink it. Brand Loyalty and activation remain crucial to consumer engagement at events such as festivals and help create impressions with long-term loyalty.
The report highlights how suppliers can influence consumers' trial and experimentation of new brands.  Festivals provide the opportunity for brands to be exposed to a wider audience. Sponsorship, on-site activations, and marketing strategies are crucial for brands and suppliers driving product and brand awareness.
Mitch Stefani, Client Solutions Director – Americas said "Festivals and outdoor concerts present huge opportunities for brands and suppliers, not only during the event, but providing exposure to brands that carry through to the wider On Premise channel. This brings unique opportunities to build off successful activations to leverage during every day, typical On Premise visitation"
Tried and trusted within the global BevAl industry, CGA by NIQ's On Premise Impact Reports provide leading data and insights derived from our best-in-class tools. Exploring both consumer and sales data, the reports provide a full view of the On Premise landscape, allowing you to determine the opportunities presented to you within the industry.
To find out more about CGA's Impact Reports, click here to download the information pack, or for a snapshot of the most recent On Premise Impact Report, click here.
Contact Mitch Stefani, Client Solutions Director to discover how CGA by NIQ's solutions can benefit your business – Mitch.x.Stefani@nielseniq.com.