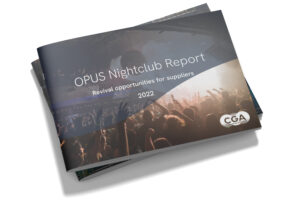 Nightclubs have remained the fastest shrinking segment of the night-time economy versus pre-COVID-19, and also during the last 3 months, according to CGA and AlixPartners latest Hospitality Market Monitor report.
But it's far from the last dance, as CGA's exclusive OPUS (On Premise User Study) research reveals that consumers are still highly engaged with the nightclub segment. Overall, nightclubs account for 7% of visits to primary segments, which is on a par with pre-pandemic visitation levels. In addition, 12% of consumers typically visit a nightclub at least once in a 3-month period.
Nightclubs remain a great channel to trial drinks as 60% of nightclub visitors are likely to try new drinks brands, and 65% are willing to trial new flavours. This highlights the attractiveness of nightclubs to suppliers as a place to drive trial of new brands and serves among consumers, cementing them with positive experiences in the On Premise. CGA's Brand Builder service shows that 49% of consumers would buy a brand in supermarkets after having a positive experience with it in the On Premise, while only 2% of consumers agreed with the reverse.
In addition, there's also higher propensity for consumers to trade-up in nightclubs. 61% are willing to pay more for better quality drinks at nightclubs. This puts nightclubs on an equal footing in terms of premiumisation potential with other segments like hotels and formal restaurants.
Whilst the nightclub channel continues to feel the squeeze since the removal of COVID-19 restrictions, the data demonstrates the continuing value of supplier engagement with the nightclub segment. This is because there's greater scope to influence drink choice in nightclubs than in other segments, with the top two of five key drivers to drink choice being "recommendations from bar staff" and "influence of friends".
Mark Jackson, client director, GB Drinks said: "The hospitality sector has had a challenging third quarter overall, with a continued shift in consumer appetite from traditional nightclubs to other primary segments—a long-term trend that was accelerated by severe COVID-19 restrictions for clubs. But it also remains a compelling primary segment for drinks suppliers, in terms of a more adventurous and less pre-determined consumer approach to drinking in nightclubs, and also more premiumisation. And with the strong possibility of the first restriction-free Christmas in three years, it could be a hopeful prospect."
CGA's unrivalled OPUS consumer research helps drinks suppliers track On Premise trends, support operators with channel strategies and unlock new sales opportunities across all drinks categories and channels.
Download more information on CGA's OPUS Nightclub channel report, which explores share of visits and frequency to nightclubs, occasion deep dives, categories consumed in the channel, how to influence drinks choice and tap into consumer need states to drive sales.
To learn more about optimising On Premise channel strategies with sales and consumer insights and unlock growth in nightclubs, contact Mark Jackson, CGA client director Mark Jackson at mark.jackson@cgastrategy.com.