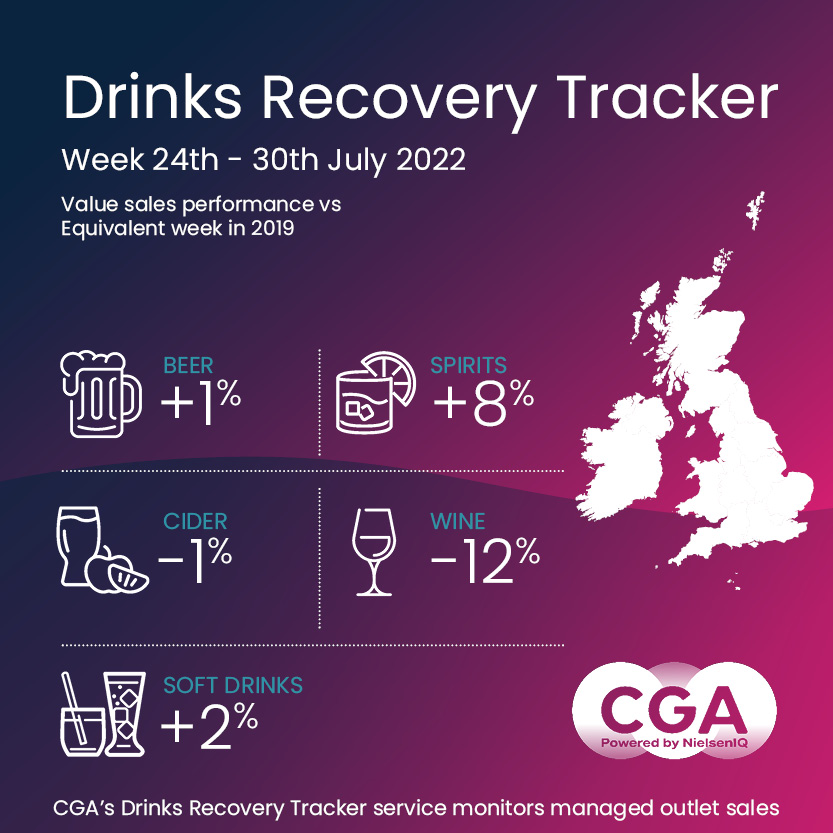 CGA by NielsenIQ's Drinks Recovery Tracker shows average sales by value in managed venues in the seven days to Saturday (30 July) were 0.6% ahead of the same week in 2019. It is the second week of marginal growth in the last three weeks, and an improvement on a 7% drop in the previous seven days, when record temperatures kept many consumers at home.
Three of the seven days were in 2022-on-2019 growth: Sunday (up 4%), Tuesday (up 20%) and Saturday (up 4%). Tuesday's growth was partly connected to England's semi-final at the women's Euro 2022 tournament, and the final at the weekend will have given pubs and bars another lift. Saturday was meanwhile boosted by the start of the men's football season. The four other days of the week saw sales running behind 2019's levels, as cool weather held down visits to outdoor areas.
On a category basis, spirits sales were up by 8% across the week, thanks to the ongoing popularity of summer cocktails. Soft drinks (up 2%) and beer (up 1%) were both in growth, but cider (down 1%) and wine (down 12%) were both in the red.
"July was a solid enough month for drinks sales in On Premise, but with inflation rampant they remain a long way short of what is needed for proper growth," says Jonathan Jones, CGA by NielsenIQ's managing director, UK and Ireland. "Staycations and day-trippers will hopefully contribute to a strong August if the weather is kind to us, but with consumers' costs piling up we are also likely to see increased pressure on spending. It's clear that pubs, bars and suppliers are going to have to work hard for every point of sales share over the remainder of 2022."
CGA's Drinks Recovery Tracker monitors managed outlet sales of the drinking-out market, providing category, supplier and brand rate of sale performance versus pre-COVID-19 sales. Suppliers and operators that want to track the recovery of drinks sales, benchmark performance or identify changes in trends and consumer preferences should contact jonathan.jones@cgastrategy.com.