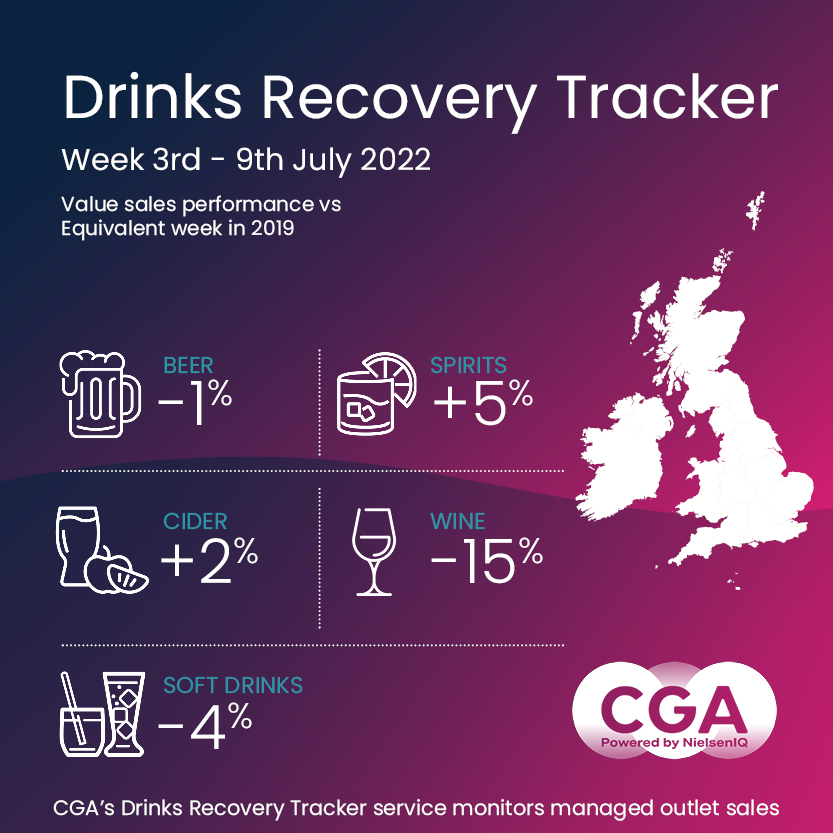 Average sales by value in managed venues in the seven days to Saturday (9 July) were only 1% down on the same week in 2019—an improvement from a drop of 3% last week and a 7% dip in the previous seven days, which were affected by rail strikes.
Rising temperatures over the week helped to bring consumers out to drink, though sales fluctuated from day to day. There was modest growth on Monday, Tuesday and Saturday (4, 5 and 9 July), but negative comparatives on every other day—including Friday, which has struggled all year as people change their working habits.
With inflation now running at 9%, sales are significantly behind pre-pandemic levels in real terms. Rising drinks prices also means that the current volume of sales is even further behind 2019's totals than the value.
As they have been for most of 2022, spirits were the best performing category last week, with sales 5% ahead of 2019's levels. Cider (up 2%) was also in growth thanks to the warm weather, but beer (down 1%), soft drinks (down 4%) and wine (down 15%) were all in the red.
"Drinks sales have hovered just below 2019 comparatives for nearly all of the Spring and Summer now, though as always there have been winners as well as losers in the On Premise," says Jonathan Jones, CGA's managing director, UK and Ireland. "The ongoing heatwave should be good news for operators and suppliers—especially those with outdoor space, which many have invested in over the last 2 years—but consistent like-for-like sales growth continues to be a challenge."
CGA's Drinks Recovery Tracker monitors managed outlet sales as the drinking-out market continues to recover, providing category, supplier and brand rate of sale performance versus pre-COVID-19 sales. Suppliers and operators that want to track the recovery of drinks sales, benchmark performance or identify changes in trends and consumer preferences should contact jonathan.jones@cgastrategy.com.