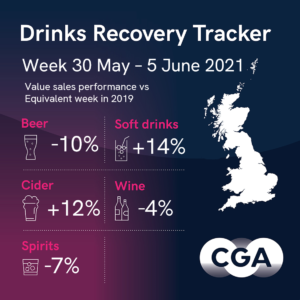 CGA's Drinks Recovery Tracker revealed that like-for-like average sales were up by 41% and 55% on Sunday and Monday of the long weekend (30 and 31 May), compared to the equivalent week in 2019. That was followed by a 14% increase on Tuesday (1 June), thanks to the continued good weather and the start of schools' half-term holidays.
However, drinks sales slipped back after that, with average like-for-likes down 2% on Wednesday (1 June). Thursday, Friday and Saturday (2 to 4 June) saw drops of 26%, 20% and 22% respectively.
Despite the slower second half, sales across the week were just 4% behind 2019. That made it the strongest comparative week for the On Premise since the start of outdoor service in mid-April—with the important caveat that the equivalent week of 2019 did not include the Bank Holiday. It fits the recent pattern of trading that has seen sales generally run well below pre-COVID levels, but with uplifts from sunny weather.
Pubs felt the biggest Bank Holiday benefit, with their drinks sales across the week up 1%, while restaurants were down 10% and bars down 36%. Wales (up 10%) ran well ahead of England (down 4%), while sales lagged 25% in Scotland, where distancing and trading restrictions have been more stringent in recent weeks.
Category wise, the sunny weather heated up sales of soft drinks (up 14%) and cider (up 12%). Wine (down 4%), spirits (down 7%) and beer (down 10%) were all in negative territory.
It was a busy Bank Holiday weekend for many On Premise drinks operators and suppliers, though the rest of the week showed we are still a long way off where we were before COVID-19," says Jonathan Jones, CGA's managing director, UK and Ireland. "If decent weather continues and the home nations can go far in the Euros, June could be a strong month for drinks sales—but the sector will be hoping above all for a relaxation of restrictions as planned on 21 June, after which drinking-out can return in earnest."
CGA's Drinks Recovery Tracker service measures drinks category, supplier and brand rate of sale performance versus pre-COVID-19 sales. Daily data is reported within three days. Suppliers and operators that want to track the recovery of drinks sales, benchmark performance against the competition or identify changes in trends and consumer preferences should contact, jonathan.jones@cgastrategy.com.