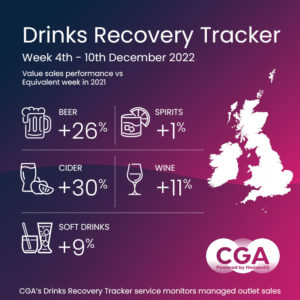 The Drinks Recovery Tracker from CGA by NielsenIQ shows sales in the week to last Saturday (10 December) were 15% ahead of 2021—the 12th consecutive week of year-on-year growth, and above the rate of inflation.
However, trading was weakened last December by mounting concerns about the Omicron variant, which prompted some people to stay away from pubs and bars. A fairer comparison is with Christmas 2019—against which last week's sales were flat at +0.4%, and substantially behind after adjustment for inflation.
The World Cup's knock-out stages have boosted England's On Premise, with drinks sales up by 46% year-on-year on the day of the last-16 match with Senegal (Sunday 4 December), and by 21% during the quarter-final against France six days later. Trading on both these days was also well ahead of the equivalent days in 2019—but it was down on the five days in between the big matches.
As has been the case since the World Cup started, the beer and cider categories were the best performers in the On Premise, with year-on-year sales up 26% and 30% respectively. Growth was softer in soft drinks (up 9%) and wine (up 11%), while the spirits category was up 1%. Figures in all key categories were further behind when compared to December 2019, although beer and cider remained in growth.
"As we enter the crucial final fortnight of the year, it's disappointing to see drinks sales only breaking even vs pre-COVID levels," says Jonathan Jones, CGA's managing director, UK and Ireland. "The World Cup has been a welcome boost for many pubs and bars, but with England out, rail strikes hitting footfall in towns and cities, freezing temperatures and the cost-of-living crisis squeezing people's disposable incomes, trading conditions are exceptionally challenging. Consumers remain keen to celebrate Christmas and New Year in pubs and bars, but operators and suppliers will find it very difficult to achieve real-terms growth over the festive season."
CGA's Drinks Recovery Tracker monitors managed outlet sales as the drinking-out market continues to recover, providing category, supplier and brand rate of sale performance versus 2021 and pre-COVID-19 sales. Suppliers and operators that want to track the recovery of drinks sales, benchmark performance or identify changes in trends and consumer preferences should contact jonathan.jones@cgastrategy.com.