Sales and consumer research from CGA by Nielsen IQ provides crucial insights to help suppliers and operators respond nimbly in this fast-changing market. Here are just five significant dynamics across the restaurant channel.
1 A strong early return from lockdown…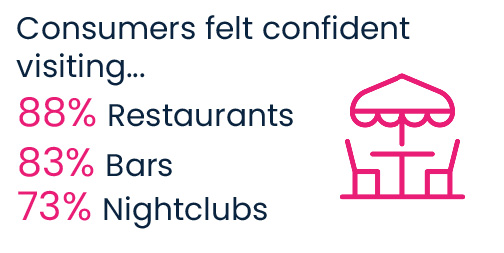 When Ireland's On Premise reopened between COVID lockdowns, restaurants thrived because they faced fewer restrictions than drink-led venues. Many consumers perceived them to be safe spaces, and CGA's latest research shows 88% of them felt confident about visiting restaurants—a notably higher number than bars (83%) and nightclubs (73%). The government's 'with food' guidance also prompted many consumers to drink in restaurants instead of other venues.
2 …But there's competition from drink-led occasions
However, as COVID restrictions eased further, we saw consumers embracing drink-led occasions again. This led to a reduction in Restaurant visits, which didn't fit as well with these occasions as pubs and bars. Nevertheless, Ireland's restaurants have been more resilient to COVID restrictions than other channels, with CGA's outlet data showing their numbers have fallen by only 4% from pre-COVID levels, compared to a 9% drop in bars.
3 Spirits sales under pressure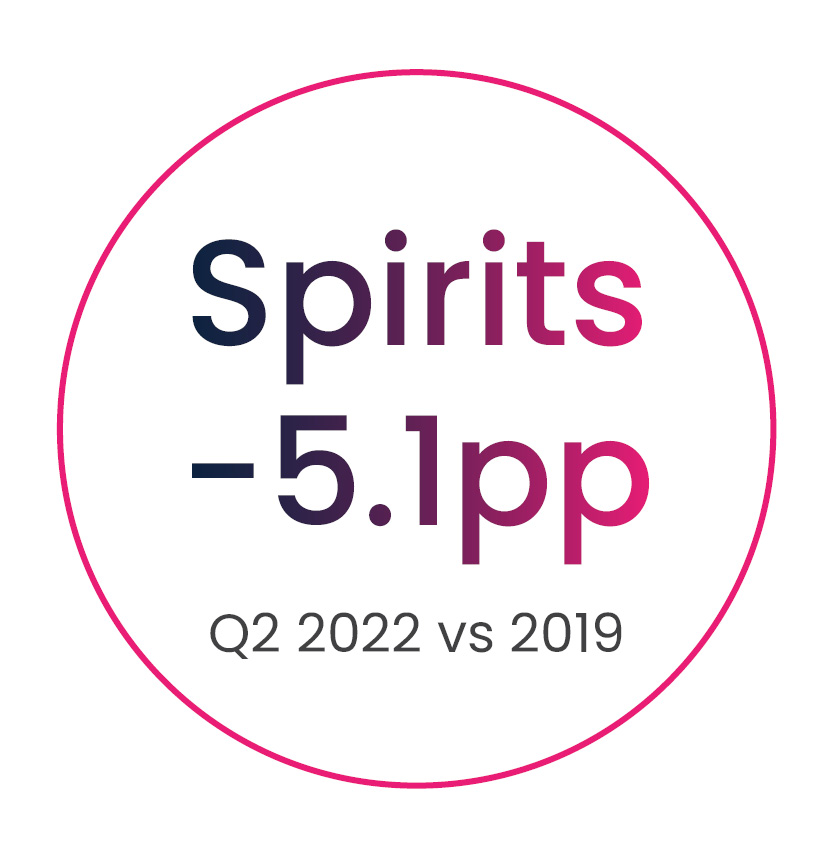 This drink-led occasion competition has put pressure on restaurants' spirits sales. In the second quarter of 2022, their share of the category was down by 5.1 percentage points on the pre-COVID level of 2019, with pubs and bars making gains. The challenge for suppliers and operators is to find ways to keep spirits attractive as a with-food or after-dinner option in restaurants.
4 Vodka powers the cocktail market
As elsewhere in the On Premise, cocktails continue to be a major growth opportunity in restaurants. CGA's data shows that vodka is the biggest spirits category in the channel with around a third of total volume—thanks in large part to its widespread use in cocktails. As more and more consumers become accustomed to the idea of drinking cocktails with food, there are some exciting opportunities for spirits brands.
5 Stout up, lager down
Restaurants have lost a small slice of Ireland's LAD market as well, with their share down 0.4 percentage points compared to the second quarter of 2019. Lager is still the biggest LAD segment in the restaurant channel, but stout has been the biggest gainer here lately, with 2.5 percentage points more share than at a total Ireland level. Ale also takes a larger slice of sales in restaurants than it does elsewhere. These changes highlight the need for beer suppliers to keep close tabs on consumers' emerging habits as Ireland's On Premise settles into 'new normal' trading patterns.
CGA's unique fusion of sales, outlet and consumer research helps suppliers and operators identify sales opportunities and construct winning strategies across all drinks categories in Ireland's On Premise. To learn more, email Sian Brennan at sian.brennan@cgastrategy.com.