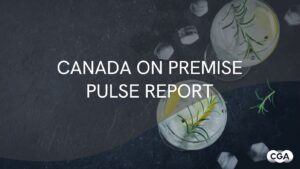 31% of Canadian consumers have visited neighbourhood bars and 36% of those have gone during the late evening/night. Sports bars fall just behind neighbourhood bars with 28% of consumers choosing to visit – 38% of those visiting from 8pm onwards.
Considering visitation to other channels popular with late-night visits,13% of consumers have been visiting casinos and 42% have done so during the late evening/night. 10% of consumers report having visited a Nightclub in the last 2 weeks, with 58% of them visiting during the later hours. Almost all these venues are typically visited on a Friday, except for nightclubs with Saturday being the most popular day to visit.
For all venues, beer is the most popular drink of choice – particularly in sports bars with 64% of consumers choosing beer over cocktails and shots. However, Shots are the chosen drink for visitors in nightclubs with 40% of visitors choosing these over 37% choosing  spirits with a mixer . Compared to the other drink-led venues, casinos have the most cocktail drinkers with 33% choosing these over shots.
Previous editions of CGA's Canada Consumer Pulse Report highlighted that during Patio Season, Canadians demonstrate changing behaviours with their drink choices. This behaviour change also translates with drink-led venues that draw higher visitation  in the later dayparts, demonstrating an understanding of how consumers engage with drinks throughout the day is crucial for optimal menu assortment.
Future visitation suggests these venues are growing in popularity over the next . 32% of consumers plan to visit neighbourhood bars, 25% sports bars, 17% visiting casinos and 12% premium bars.
Matthew Crompton, regional director – North America said: "During the summer months, it's no surprise to see an uplift in late night drinkers as we can see the patio season influencing behavioural changes in Canadian consumers. These behavioural changes can also be noticed through consumers choosing different drinks depending on the venues they are visiting. Suppliers and operators need to be aware of these changing dynamics to ensure they're maximising brand opportunities as drink preferences shift to certain categories for different occasions."
Over the dates (29 June – 1 July) we surveyed 1,200 respondents (aged 19+) in Ontario, Alberta, British Columbia and Quebec who have visited On Premise venues in the past 3 months.
Download the latest Canada On Premise Consumer Impact Report here.
This report focuses on consumers decisions and satisfaction. This allows CGA to reflect on how people are visiting the On Premise and what the sector can expect in the future. To learn more about CGA's consumer research and market measurement services across Canada, please contact Matthew Crompton at matthew.crompton@cgastrategy.com