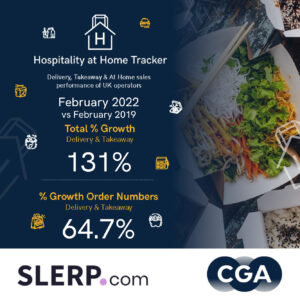 The latest edition of the Tracker shows that groups' combined delivery and takeaway sales in February were 131% higher than in February 2019. Growth has been powered by delivery orders, which were nearly four times higher than three years ago. Eat-at-home sales accounted for around 26 pence in every pound spent with managed restaurant and pub groups in February 2022.
However, February's sales were 17% lower than in February 2021, when national lockdowns were in place and restaurants, pubs and bars were closed. The removal of COVID-19 restrictions has led some consumers to eat out this year instead of ordering in as they did in early 2021.
Karl Chessell, CGA's director – hospitality operators and food, EMEA, says: "As restrictions end and restaurants and pubs recover their eating-out sales, it's not surprising to see a drop in deliveries and takeaways from the heights of last year's lockdown. However, the ordering-in habits that consumers have established during the last two years are not going to disappear. People have grown accustomed to the convenience of hospitality at home, and this is now an established part of their repertoire of eating occasions, allowing them to enjoy their favourite food both in restaurant and at home."
Slerp founder JP Then says: "What we're seeing, almost a year on from the end of the last lockdown, is the normalisation of takeaway and delivery levels. The hospitality sector has forever changed, the brands that not only survive, but thrive are those who are able to bring their brand to their customers, wherever they are. And those that do this via direct selling vs relying on marketplaces will ultimately see more profitable results."
The CGA & Slerp Hospitality at Home Tracker is the leading source of data and insight for the delivery and takeaway market. It provides monthly reports on the value and volume of sales, with year-on-year comparisons and splits between food and drink revenue. It offers a benchmark by which brands can measure their performance, and participants receive detailed data in return for their contributions.
Partners on the Tracker are: Azzurri Group, Big Table Group, BrewDog, Burger King UK, Byron, Cote Restaurants, Dishoom, Gaucho Grill, Giggling Squid, Honest Burgers, Island Poke, Nando's Restaurants, Pizza Express, Pizza Hut UK, Prezzo, Rosa's Thai, TGI Fridays UK, The Restaurant Group, Tortilla, Wagamama and YO! Sushi. Anyone interested in joining the Tracker should contact Karen Bantoft at karen.bantoft@cgastrategy.com.