Click here to view this blog in Spanish/Ver este blog en español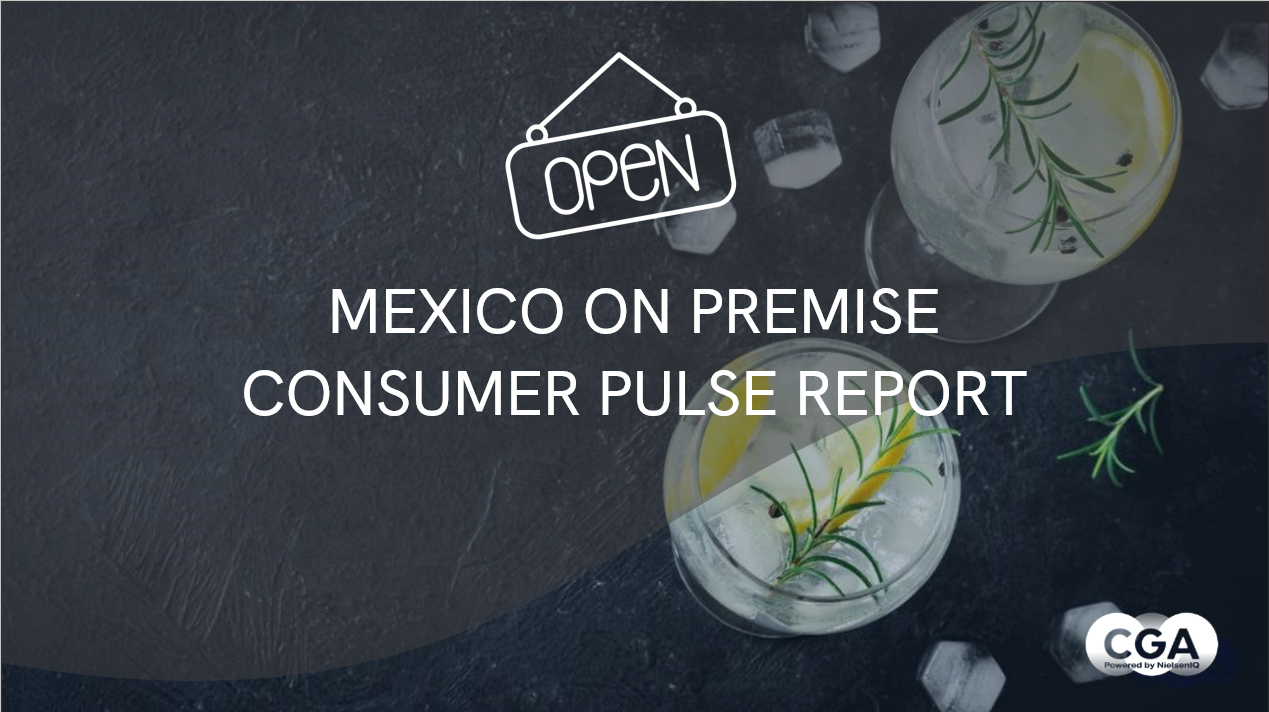 Each month CGA by NielsenIQ survey over 1,000 consumers in Mexico to understand their behaviours, their current and planned visitation to the On Premise, and a number of hot topics – including what they think of the number of drink category brands they've seen in the channel.
Overall visitation over July in the On Premise remained consistent, with 7 in 10 consumers visiting bars and/or restaurants for food-led occasions and half visiting for drinks-led occasions. In the last two weeks, 17% of On Premise consumers have visited bars or restaurants more than usual – with 85% of consumers currently feeling confident about visiting the channel.
When it comes to choice, consumers in Mexico would like to see more drinks brands in venue – particularly across the categories of Gin, where consumers would like to see 1.7 more brands on average, and across both No & Low Alcohol drinks and Cocktails – where consumers would like to see 1.5 more brands for both categories.
This underlines how important choice is for consumers in Mexico and highlights the new product development (NPD) opportunities for drinks brands. Typically, consumers see more brand options across categories that are consumed more frequently.  However, even for more popular options such as Beer (drunk by 72% of On Premise consumers), consumers typically see 4.6 Beer brands when they visit the channel and would like to see 5.6. In fact, across all categories there wasn't a single option where consumers wouldn't want to see more brand options – including Mezcal, Tequila, Vodka and more.
A third of consumers in Mexico are now spending more on alcohol per visit than they did 3 months ago, with just 23% stating they are spending less. For those who are spending more, the top factors were that food and drink is becoming more expensive in the On Premise – however a third of consumers stating they have been treating themselves more, and 30% have been celebrating more special occasions.
Matthew Crompton, regional director – North America, said: "Combined with consistent planned visitation rates for the next month, this highlights the value of the On Premise for drinks brands. Consumers are overwhelmingly choosing to prioritise this channel, particularly for celebratory and treat occasions, and they want to see even more choices made available to them, with CGA's previous research into the Path to Purchase highlighting that the On Premise is a key destination for trial and experimentation for consumers."
Download the latest Mexico On Premise Consumer Pulse here.
CGA's powerful research helps On Premise businesses understand the latest trends in consumer behaviour. It provides suppliers with the market intelligence and path-to-purchase intelligence needed to optimize strategies and support conversations with clients. Bespoke analysis, including valuable consumer segmentation research, is available.  
To learn more about CGA's consumer research and market measurement capabilities in Mexico, please contact Matthew Crompton at matthew.crompton@cgastrategy.com.