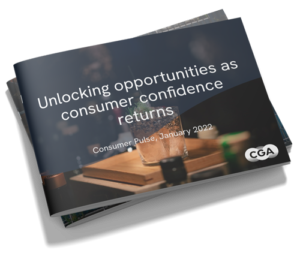 The in-depth survey reveals that more than two thirds (70%) of consumers now feel confident about visiting pubs, bars and restaurants—double the number (34%) who felt the same way at the start of 2021.
Confidence levels have been lifted further by positive experiences in the On Premise. More than a third (38%) of consumers say their recent visits were better than expected, and just 2% considered them below expectations. Some consumers remain anxious about COVID-19, and safety remains the top consideration when they decide where to eat and drink out—ahead of factors like quality of food and value for money. Operators continue to work hard to reassure people, and 71% of guests say they felt very or quite safe on their visits.
The research raises hopes for a steady recovery in sales in the On Premise over 2022, especially as one in five (19%) consumers intends to visit the sector more often this year—a higher number than those who plan to visit less (17%). Confidence is set to rise further after the relaxation of Plan B restrictions in England this week.
However, optimism is being tempered by mounting concerns about consumer spending. Rising costs in many areas of everyday life, including energy and shopping bills, have squeezed households' disposable income, and more than two thirds (70%) of consumers say they are concerned about their long-term finances.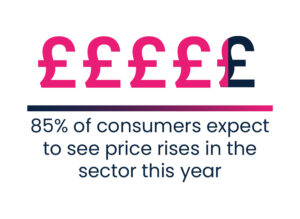 There is widespread recognition that pubs, bars and restaurants will be part of cost of living issues. The large majority (85%) of consumers expect to see price rises in the sector this year, and there is a risk that significant hikes may put them off eating and drinking out.
After a challenging two years, people remain supportive of restaurants, pubs and bars, the survey shows. Nearly two thirds (62%) have been supporting local hospitality businesses, and 43% think the government isn't doing enough to protect the sector.
CGA research and insight director Charlie Mitchell says: "Consumer demand for eating and drinking out remains strong, and it is encouraging to see confidence levels edging back towards pre-COVID-19 norms. But while safety concerns are easing, rising costs are hitting hospitality with a double whammy of reduced profit margins and pressure on their guests' spending. The full impact on visits and sales remains to be seen, but it is already clear that value will be paramount in 2022, and that operators and suppliers will have to work harder than ever to attract consumers and grow share."
Click here to access more data and insights from CGA's latest Consumer Pulse survey.
The Consumer Pulse research surveyed 2,000 nationally representative consumers from 10 to 17 January. The extensive findings provide suppliers and operators with crucial intelligence about consumers' habits and preferences, and CGA's expert analysis can help businesses identify sales opportunities and unlock growth in 2022. To learn more, email charlie.mitchell@cgastrategy.com.