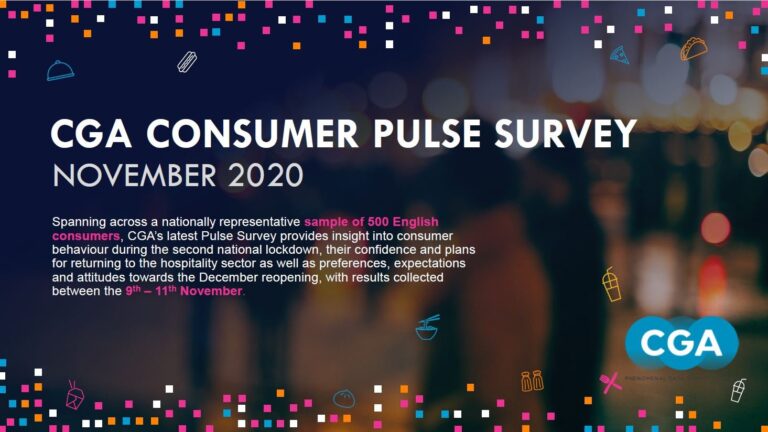 The majority of consumers feel confident enough to return to pubs, bars and restaurants after England's lockdown, a new CGA survey shows.
The Consumer Pulse poll of 500 nationally representative consumers found that more than half (55%) of consumers in England feel safer in hospitality venues than they do in shops and supermarkets.
It follows extensive work by operators to implement COVID-related precautions. The 'We Hear You' initiative from CGA, Yumpingo and UKHospitality has shown that nearly nine in ten guests have been satisfied with safety precautions (86%) and how well venue teams have followed hygiene practices (88%) since July.
Confidence about safety means consumers are eager to return to venues after the scheduled end of the four-week lockdown on 2 December. Three quarters (76%) say they plan to go out when sites are open again, and a similar number (74%) say they are missing their visits to the on-trade during lockdown.
A quarter (24%) of those planning to go out in December say they didn't do so after the first post-lockdown reopening in July, and 38% of all consumers think they will be back within a week. This is ahead of equivalent figures at the end of the first lockdown in July, and another indication that consumers feel more confident about going out now.
As we near the end of a hugely challenging year, it's encouraging to find that so many consumers feel confident enough to return to pubs, bars and restaurants," says CGA's research and insight director Charlie Mitchell. "It's a reflection of the hard work that operators have done to provide safe and hygienic environments, and is a positive sign ahead of the crucial pre-Christmas trading period. The fact that consumers clearly still love going out to eat and drink should give everyone cause for optimism for 2021."
Optimism has been further fuelled by news that a COVID-19 vaccine might soon be available—and a rapid rollout could encourage more people to return to hospitality. Many of the consumers who don't currently plan to go out after lockdown say they are concerned about safety and crowds—but two in five (42%) of them say they would do so if a vaccine became available.
The Consumer Pulse research is based on a nationally representative survey of 500 adults in England from Monday to Wednesday (9 to 11 November).
To learn how CGA's Consumer Pulse and other research can provide crucial insights into consumers' fast-changing sentiment and attitudes to the out-of-home sector, contact Charlie Mitchell at charlie.mitchell@cga.co.uk.