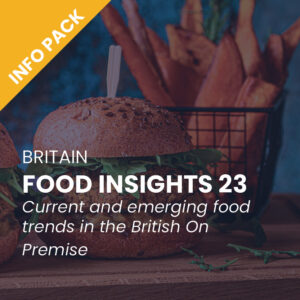 At the top of the global popularity stakes, British, Chinese, Italian, Indian and American remain consistently ahead, in line with the past four years. But there are clear gaps in the market where emerging cuisines are well received when consumers are exposed to them, often initially when eating out in casual dining restaurants, and at street food stalls and markets. But emerging cuisines can be difficult to find, creating an under-supplied demand, despite almost half of consumers who would like to try these cuisines.  
For example, 1 in 3 consumers are interested in trying out Ukrainian cuisine, due to 47% being enticed by the culture, flavours and experience.  In addition, over a third of consumers have a keen appetite for some of the other most sought-after emerging cuisines. But in terms of winning hearts and stomachs, 37% of consumers are struggling to find Burmese food, 36% Peruvian, 34% East African, 32% West African, 31% South African, and 27% Malaysian. 
Moreover, significant interest levels are diminishing when engagement with emerging cuisines isn't readily available. As a result, 40% of consumers say they don't know enough about the cuisine and this makes them disinterested, while 28% say they prefer food that's familiar to them and don't want to spend money on a meal if they're not sure they will like it. On the other hand, 45% might be encouraged to try an unfamiliar cuisine if they could sample it first. 
CGA by NIQ's new report delivers many insights for suppliers wanting to launch products into new markets and needing to understand the size of the opportunity, category performance and market share to analyse where they sit within the market, justification for price increases, new product development guidance, and thought leadership.  
James Ashurst, client director – foodservice, says: "Consumer interest in emerging cuisines is continuing to gain pace. There's a raft of untapped opportunities for suppliers to leverage unsaturated and emerging cuisines in the Out-Of-Home market. The Food Insights Report gives suppliers an invaluable deeper level of understanding, by channel, occasion, day part & spend, empowering them to develop and differentiate the market based on emerging demands, and informing new business conversations, while supporting the retention of current client portfolios." 
CGA's 'Food Insights Report 2023' offers much more analysis of established and emerging cuisines, helping suppliers, wholesales and operators understand the latest consumers preferences and respond with winning sales, marketing and brand strategies. 
It explores topics including emerging food trends, global cuisines, new menu options and the needs of consumers with dietary requirements. The full report is available to purchase now. To learn more download the info pack here or contact James.Ashurst@nielseniq.com .