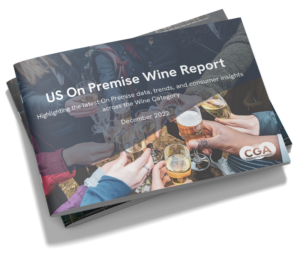 In the latest 52-week period, Wine has lost 1.1 percentage points in value share to the Spirits & Beers categories – highlighting that suppliers need to delve into the factors that are impacting the performance of Wine in the On Premise if the category is to regain its lost share.
CGA's new On Premise Wine Report will be the largest comprehensive overview CGA has produced for the Wine category and will arm suppliers with a foundation of category insights needed to build strategies for the channel, and support sales planning for 2023. The report will provide suppliers with a complete view of the categories' performance and what consumers are looking for with Wine selection, including insights into the US On Premise visitor, revealing that just over a quarter (26.5%) drink wine when they visit bars, restaurants, and pubs – with female consumers over-indexing, and this segment tending to skew older.
However, across On Premise visitors, 21% are noticing fewer items on menus, and of those consumers nearly 2 in 5 say there are fewer wine options available – presenting a significant challenge to wine suppliers looking to target both existing and new consumers. Menu rationalization makes earning new and maintaining existing points of distributions (PODs) more valuable.
Additionally, the number of Fine Dining outlets, which are a key channel for Wine suppliers, have decreased by 3.8% from August 2021 to August 2022. Understanding how wine offerings can be positioned to suit different venues could be key to the category's growth across new consumer segments – with the growth of Casual Dining Chains representing an opportunity as 3 in 10 consumers drink wine in these types of venues.
What is essential for wine brands is understanding how to drive consumption into new segments, recruit new drinkers and the role that venue type can play in both instigating trial and facilitating trade-up in this space. The new On Premise Wine Report enables Wine suppliers to fully immerse themselves with a plethora of insights that will shed light on the opportunities for brands in the channel.
Utilizing a multitude of CGA's suite of On Premise services, the report will provide a 360-degree view of Wine in the On Premise. This cohesive approach includes OPM (On Premise measurement, share of sales) OPUS (On Premise User Study, how consumers interact with different wine types, serves, and the path to purchase) and 2022 Channel Strategy Report (an in depth consumer study on in channel dynamics such as fine dining, casual dining, etc).
Now more than ever, it's vital for winemakers and suppliers to keep a pulse of what is happening in the On Premise to identify opportunities, anticipate changes and capitalize on trends.
Matthew Crompton, Regional Director – North America, said: "Our new US Wine Report utilizes a variety of its signature tools including OPUS, OPM, and Channel Strategy to compile the most actionable and current insights for executive, marketing, and sales teams. Whether teams are considering a new brand launch in the market or managing a portfolio of legacy wines, the report will provide a robust set of insights across relevant topics to help drinks suppliers win in the On Premise."
Delving into consumer research, sales data, and using channel strategy research, CGA's new On Premise Wine Report highlights the latest data, trends and insights across the Wine category. Click here to download more information, or get in touch with Matthew Crompton – matthew.crompton@nielseniq.com