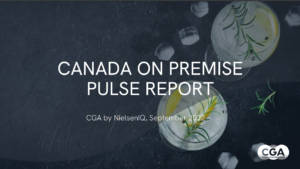 Typically, the summer months create a window of opportunity for suppliers and operators with rising temperatures, the option of outdoor seating, a wider cocktail range to choose from and consumers typically being more inclined to stay out for longer. But as the Summer months have come to a close, considering consumers' changing behaviours in Fall and Winter is key for increasing traffic, customer satisfaction and overall check value over the coming months.
Exploring consumers' preference to Spirit bases for cocktails across seasons highlighted Vodka, Prosecco/Champagne, Gin, and Tequila all proved more popular in the warmer months of Spring and Summer. While Liqueurs/Speciality drinks, Rum, and Whiskey took the top spot during Fall and Winter.
When asked about cocktail preference, 46% of cocktail drinkers said classic cocktails are their preferred type, however also proving popular were twists on classics (21%) and signature serves (20%). This shows the importance of choice and cocktail offering in venues but also shows the opportunity mixing up the favourable cocktail bases in the summer months, with ingredients that are proving more popular in the later seasons.
The report also shows the appeal consumers have to try new drinks in the On Premise, with 49% of consumers admitting they enjoy trying new drinks in Bars and Restaurants and 51% saying this is where they have tried some of their favourite drink options. This information combined with the seasonal opportunities creates an opening for those suppliers and brands that are looking to encourage consumers to try different brands on offer.
Matthew Crompton – Regional Director – North America said "The seasonal opportunities for the remainder of the year during Fall and Winter are clear. Operators should now be considering how consumers drink preferences can change and how they can use this information to really capitalize on their cocktail offering."
Explore more in-depth information around cocktails and opportunities for brands in the next Canada OPUS report – available November 2022.
Seasonal attitudes towards visitation and drink choices is one of the many different dynamics that is explored in CGA's upcoming Cost of Living Report, which is an exclusive study examining the economic impacts of increased pricing on consumer behavior through spend and visitation to the channel at National and Provincial Level.
The Consumer On Premise Impact Report is a consumer research report tracking and reflecting on how consumers currently feel about the On Premise, and how the sector can position its offering to increase visitation. The latest On Premise Impact Report by CGA, along with other special reports issued over the past several weeks, can be found here.
For more information and support please contact Matthew Crompton at Matthew.Crompton@cgastrategy.com