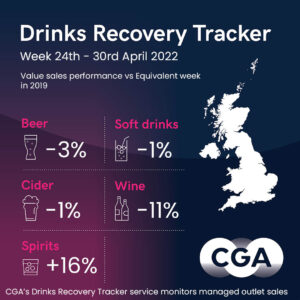 CGA's Drinks Recovery Tracker shows average sales by value in managed pubs, bars and restaurants were 0.4% up on the same week in 2019. It follows a 1% increase in the previous seven days, after four successive weeks of sales just below comparatives. However, factoring in high levels of inflation, the real-terms value of sales remains well below pre-pandemic markers.
CGA's Tracker demonstrates the impact of reasonable weather at the start of the long weekend, with sales up by 7% and 15% on Friday and Saturday (29 and 30 April) respectively—but growth here was cancelled out by weaker trading in the first half of the week.
With demand for mixed drinks still very strong, spirits recorded stellar growth of 16% from the same week in 2019—the category's best week since mid-March. Soft drinks (down 1%), cider (down 1%) and beer (down 3%) were just behind comparatives, but the wine category (down 11%) continues to prove the most challenging.
"A decent bank holiday weekend was a welcome boost to trade, but the reality is that figures are still short of the growth that the On Premise needs," says Jonathan Jones, CGA's managing director, UK and Ireland. "With two more bank holiday weekends on the horizon, operators and suppliers will be pinning hopes on bright weather to bring consumers out and kickstart their spending."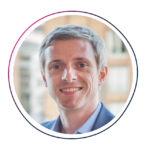 CGA's Drinks Recovery Tracker monitors managed outlet sales as the drinking-out market continues to recover, providing category, supplier and brand rate of sale performance versus pre-COVID-19 sales. Suppliers and operators that want to track the recovery of drinks sales, benchmark performance or identify changes in trends and consumer preferences should contact jonathan.jones@cgastrategy.com.