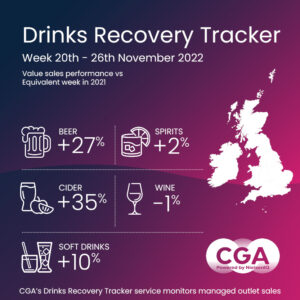 Average sales by value in the seven days to last Saturday (26 November) were 16% ahead of the same week in 2021—the biggest year-on-year uplift of 2022 so far. While it is the tenth week of growth in a row, it is the first that has exceeded the current 11% rate of inflation.
The week's two World Cup matchdays sent sales rocketing—by 81% on Monday (21 November) when England and Wales played Iran and the US respectively; and by 41% on Friday (25 November), when those oppositions were switched. Other matches in the tournament helped too, with the remainder of the week in daily year-on-year growth of 2% to 3%.
Pubs and bars were particularly buoyant in Wales, which took part in the World Cup for the first time in more than 60 years. Sales across the week were up by 37% year-on-year, compared to 15% in England. While Wales are now out, England's progression to the knock-out stages will bring another big upswing this Sunday (4 December).
The World Cup is particularly good news for the Long Alcoholic Drinks (LAD) category. Sales of beer were up by 27% last week, and cider was even further ahead at 35%. Soft drinks and spirits were up 10% and 2%, but the focus on drinking rather than eating kept wine sales down 1%.
"After months of modest increases well below inflation, the World Cup has delivered some very welcome real-terms growth," says Jonathan Jones, CGA's managing director, UK and Ireland. "Pubs, bars and suppliers will be hoping England can now go deep into the tournament and bring a bright end to a difficult year."
CGA by NielsenIQ's Drinks Recovery Tracker monitors managed outlet sales as the drinking-out market continues to recover, providing category, supplier and brand rate of sale performance versus pre-COVID-19 sales. Suppliers and operators that want to track the recovery of drinks sales, benchmark performance or identify changes in trends and consumer preferences should contact jonathan.jones@cgastrategy.com.