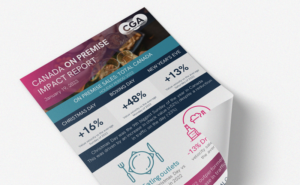 The report reveals the scale of the cocktail market in bars and restaurants, with over a quarter (26%) of consumers buying one in the last three months. Of these, more than two thirds (68%) say they are likely or very likely to pay extra to trade up to a larger serve size. The number rises further particularly among younger consumers. 
The research emphasises the importance of understanding people's latest On Premise habits, including their attitudes to flavour—which is the second biggest factor in decisions after price in all core drinks categories. More than nine in ten (93%) cocktail drinkers say flavour is important or very important in their choices, while at least four in five agree it is important when they select drinks in beer, hard seltzer, RTD and spirits segments. 
More vital insights into consumers' attitudes to cocktails and other drinks categories will be revealed in CGA's upcoming Key Trends Report in the Fall. It will provide deep analysis of subjects including the impact of rising costs on spending, flavour preferences, brand engagement, paths to purchase and spotlight many more trends for businesses to watch. 

CGA's Canada On Premise Consumer Pulse Report is out now, while the Key Trends Report will be available soon. CGA's expert team can also provide bespoke insights tailored to the specific needs of suppliers and manufacturers in Canada's On Premise.  

Mitch Stefani, CGA by NIQ's client solutions, director – Americas, said: "Despite the pressure on their discretionary spending, Canadians remain very eager to drink out, and our research suggests visitation levels will hold up well in the months ahead. It's clear that consumers are still very willing to spend more for higher quality and bigger serves—but only if the experience and value meet their high expectations. Flavour is at the heart of their decision-making, so it's crucial for all businesses to get a precise understanding of taste profile preferences across all drinks categories and consumer groups. There's great untapped potential for suppliers in Canada's On Premise in the months ahead, and we're excited to be helping businesses hone their strategies and get a head start in this competitive market."

Tried and trusted within the global BevAl industry, CGA by NIQ's On Premise Impact Reports provide leading data and insights derived from our best-in-class tools. Exploring both consumer and sales data, the reports provide a full view of the On Premise landscape, allowing you to determine the opportunities presented to you within the industry. 
To find out more about CGA's Impact Reports, click here to download the information pack, or for a snapshot of the most recent On Premise Impact Report, click here. 
Contact Mitch Stefani, Client Solutions Director to discover how CGA by NIQ's solutions can benefit your business – Mitch.x.Stefani@nielseniq.com.