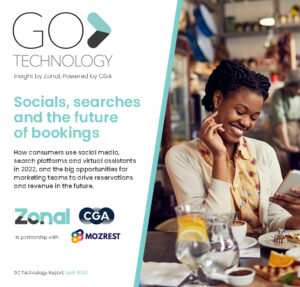 The figures from Zonal and CGA, highlight how social media channels are becoming a close competitor to Google, which is used by 79% of consumers to search for venues.
This most recent GO Tech report, in partnership with booking channel aggregator Mozrest, shows that 80% of consumers now use at least one social media platform and a third of these (31%) use such channels to book tables or order food for takeaway and delivery, demonstrating the opportunity. This number increases to 53% amongst 18 – 24-year-olds.
With more and more people going online to research or interact with a hospitality venue pre-visit, there is more need than ever for hospitality marketers to use these platforms to drive reservations and footfall into venues, as demonstrated by the research, which shows:
48% of consumers look on social media for recommendations of places to eat and drink out
33% of consumers use social media to book a table at a pub or restaurant
38% of those that currently don't, would consider using social media to book a table at a pub or restaurant
33% of consumers that don't use social media to look for venues would consider ordering takeaway or food to be delivered via social media
The research also revealed an opportunity for venues to drive reservations via virtual assistants such as Alexa and Google Assistant in the not-too-distant future. The devices are increasingly common in UK households – with the research revealing that 50% of consumers now own a virtual assistant, rising to 72% amongst 18- to 24-year-olds. Nearly half (47%) of virtual assistant owners use their devices for research, including searching for a venue and nearly a third (30%) of consumers said that reserving a table via an assistant would be quicker and more convenient than other methods.
Perhaps unsurprisingly older consumers are less likely than younger ones to engage with a venue or reserve a table online – the research shows 75% of people aged 45 or over haven't even used Google to find venues for eating and drinking out. Therefore, the challenge for hospitality marketers is to ensure businesses are using the right marketing methods to attract the right demographic. Streamlining the customer booking journey and offering multiple booking channels is key – whether that be via a website, phone, email or via virtual assistants such as Alexa.
Commenting on the findings, Olivia FitzGerald, Chief Marketing and Sales Officer, Zonal, said: "Booking ahead became a necessity during the pandemic but even with restrictions lifted this trend is here to stay. With more people using the likes of Instagram, Facebook, TikTok and Google for recommendations, having a booking system that can be linked to these online platforms is key. Marketers that use this space to effectively communicate with customers will be able to reap the benefits, maximising reservations and keeping customers engaged for the long-term.
"When it comes to bookings, convenience is key, so providing a frictionless booking experience is a priority, whatever the channel. The advent of virtual assistants means that accurate, real-time availability is also becoming a must-have, with bookings increasingly being made on the go.  Joined-up tech helps drive reservations and, ultimately, revenue."
Karl Chessell, CGA Director – Hospitality Operators and Food, EMEA, commented: "This research confirms the huge importance of social media and web searches to pubs, bars and restaurants—not just in promoting venues but in generating bookings and sales. With consumers living more and more of their lives on Facebook, Google and other platforms, these are the battlegrounds on which marketers must now compete for brand awareness, loyalty and spend.

It's interesting to see the soaring importance of both visual social media like Instagram and TikTok and virtual assistants, and these are vital places to connect with young adults in particular. Here and elsewhere, engaging and authentic content, seamless integration of booking facilities and a close eye on emerging technologies and trends will be essential in 2022 and beyond."
Jérôme Pernollet, Founder & CEO, Mozrest, adds: "Social media is now an integral part of our daily lives and, as this report shows, plays an even bigger role in hospitality than some may have expected. It's important for businesses to future proof their booking and reservation systems, and this becomes even more critical for operators wishing to connect with younger consumers such as Gen Z. Using online tools to make your venue visible where consumers look for reviews, images and recommendations is absolutely key. The good news is that now technology offers pubs and restaurants the ability to centralise all their online reservations in one place, whatever the booking channel."
Download the latest GO Technology report here.