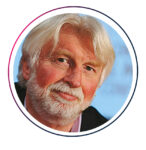 1. Create and transform
Setting the scene, Peter Martin made the point that the Roundhouse itself reflected the themes of the day, having started life as an engine repair shed, and with a history of reinvention that includes stints as a gin warehouse, theatre, music venue and creative space for new talent. With hospitality currently facing significant economic challenges, "it's not all equal out there," said Peter. While some businesses are undoubtedly "on the brink, others are opening" and rumours of M&A activity stepping up were confirmed by the end of the conference by Revolution's £16.5m, purchase of Peach Pubs!
2. Tough times can be good for innovation 
In his scene setter on the economic outlook, Spectator business editor Martin Vander Weyer urged operators to innovate, suggesting "the remedy for bad politics is good business'. This theme of turning challenge into opportunity was echoed by several speakers, including those on the Change Makers panel of young entrepreneurs chaired by Lorraine Copes of Be Inclusive Hospitality. Bharti Radix of BloomsYard said that the Covid lockdown gave her time to think about how to improve the business, reopening with new ideas, while Lucy Do, founder of the Dodo Micropub, explained how the personal challenge of redundancy spurred her to set up the business.
3. Don't focus on the numbers, focus on the experience
Clement Ogbonnaya, founder of the Prince of Peckham pub and about to open his second pub in South London, told the Change Makers panel that he left other people in his business to worry on the money, while he focuses fully on customers – an approach that seems to work, with a £4m turnover in prospect this year, The pub was transformed during lockdown from a single storey site into a three-floor community hub employing more than 30 staff, offering free space for a range of activities. "I wanted to create an inclusive space. It's not just about race, it's about sexuality, about allowing people to co-exist," said Clement.
4. Technology is changing the face of hospitality
Hospitality employees are increasingly looking to their employers to invest in technology that makes their working lives easier, with CGA figures showing that 88% want to see technology improve and make their job more seamless, in areas such as shift notifications and clocking on. While the evidence is that "consumers will use technology if it enhances their experience", some operators are cautious about front-of-house technology, with Mitch Tonks of Rockfish warning that it shouldn't be a substitute for good service.
5. The post-covid employee has different expectations
As the Hospitality Rising campaign prepares to launch its first TV ads to attract younger workers into careers in hospitality, there were notes of caution from several speakers that employers may have to think a little differently. During the Ultimate Talent Contest panel chair Nisha Katona of Mowgli, said "you have to have an overarching aim", in terms of company culture, with many younger employees just as interested in their employers' values as salary. In the Final Transformation panel, Karen Bosher, managing director of Premium, Urban and Venture at Greene King, said employers have to accept that "many younger people aren't looking for 30 year careers with the same company, as we were."
6. Thursday is the new Friday
Like employees, consumers have changed their habits during Covid, with many reluctant to entirely give up the more flexible working patterns they adopted during lockdown. CGA figures show that this has shifted trading towards Thursdays in some locations, as people have a shorter 'in the office' working week. While Friday is still a strong trading night, it has seen a 2.2% decline in share of weekly sales since 2019.
7. Fake it until you make it
John Kunkel, founder and CEO of the US-based 50 Eggs Hospitality Group, said that relatively early in his career he had been given opportunities by employers to experiment with brand formats, designs and menus "and while I probably had no business doing it then, it gave me the mentality of wanting to create experiences," With 50 Eggs credited as "once of the coolest multi-concept companies" in US hospitality, this approach is reflected in the success of its concepts such as Yardbird, Chica, Spring Chicken and Wakuda. One secret is being able to adapt, said John, citing the example of the Yardbird menu switching to more indulgent dishes, and Chica focusing as much on its live entertainment offer as its menu. "We've learnt to accept criticism, whether from staff or customers, and act on it."
8. London is ready to explode
As he makes plans to bring the Yardbird concept to London, John Kunkel said "I see more signs of life in London than almost any other market. It's teeming and ready to explode again". This was underscored by Martin Vander Weyer's view that the strength if the dollar means US tourists are ready to return to the UK. Kunkel also said that the conventional wisdom that the London market is a deterrent to overseas operators doesn't really apply, with property costs no more of a challenge than in major US cities. "We also see a similar customer in London as in New York, Miami, and L.A."
9. Consumers don't want to be lectured on sustainability
A survey by Nutritics shows that 44% of consumer say that sustainability is important to them when selecting what to eat or drink from a menu, However, CGA's data shows that just 20% of hospitality leaders believe they are market leading in terms of sustainability. Chairing the sustainability panel, Kate Nichols of UKHospitality cautioned that it would be wrong for operators to lose focus simply because the government currently seems less committed to its green agenda. Mark Chapman of Zero Carbon Forum emphasised that while consumers don't want lectures, they expect businesses to be able to answer the questions they have.
10. We all need to do better
When it comes to recruitment in particular Karen Bosher of Greene King, suggested that the hospitality sector "doesn't just have an image problem, we have a fundamental problem", and more work is needed to make hospitality careers attractive. Both Karen and Lucy Do of the Dodo Micropub talked about their efforts to make their businesses more inclusive and welcoming to women in particular. Clement Ogbonnaya made a very clear point that "I'm looking at a room full of industry leaders, and you're all fantastic people", but the room did not reflect the diversity it should.