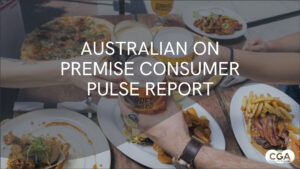 Australians are continuing to visit their favourite pubs, bars and restaurants in their free time, with nearly half (44%) visiting a hospitality venue over one of the public holidays over the last month. Many of these visits were driven by food-led occasions and to socialise with friends and family, however, 1 in 5 consumers visited to watch sport. 
This demonstrates a significant opportunity for venues to drive footfall during key sporting events but also highlights that drinks suppliers should be identifying how their brands can understand these consumer segments and capitalise on these occasions. 1 in 3 consumers in Australia visited the On Premise to watch the AFL and NRL Grand Finals, reinforcing the commercial opportunities for operators to partner with sports broadcasting companies to make the most of these events to increase spending and footfall.   
As expected, when it comes to NRL versus AFL, there are key differences between these consumer segments. WA, Victoria and SA were the top states where consumers visited the On Premise to watch the AFL Grand Final, whereas for the NRL Grand Final the top states were the ACT, NSW and QLD. 
More surprisingly, the AFL Grand Final consumer was less likely to drink beer – with NRL Finals consumers outpacing them in beer consumption across domestic, imported and craft beer. NRL Finals consumers were also likely to spend more, typically outlaying AUD$284.02 in the On Premise each month – over $25 more than an AFL Finals consumer. These splits highlight that there are key nuances that can be delved into further to truly understand the AFL and NRL consumer. 
James Phillips

James Phillips, client solutions director – ANZ, said: "There are key differences between the AFL and the NRL consumer segments – something that can be explored in detail using our Distilr360 solution. This tool provides unlimited access to our OPUS consumer research data and create custom consumer groups. This is just a small snapshot of what Distilr360 can provide, with our data ensuring that drinks suppliers can truly delve into the Australian On Premise consumer and identify where the opportunities lie by tailoring market-leading data to their brand's needs." 
Download the latest Australia Consumer Pulse Report here – https://cgastrategy.com/australia-on-premise-impact-report-consumer/ 
To learn more about CGA by NielsenIQ's consumer research and market measurement services across both Australia and New Zealand, please contact James Phillips at james.phillips@cgastrategy.com