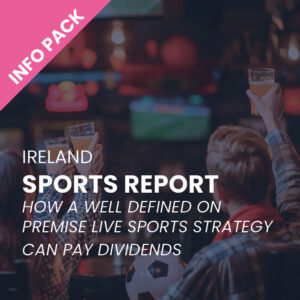 CGA's exclusive On Premise Sports Report shows well over half (58%) of Ireland's sports fans go out to watch live sports events on TV—and 70% them do so at least once a month.  
The report—based on CGA's in-depth On Premise User Survey (OPUS)—provides the foundations for targeted and effective live sports strategies. It sets out the key factors that drive consumers to sports-led visits to pubs and bars, including the importance of location, atmosphere, drinks range and seating. 
The research also flags the most popular sporting events in Ireland's On Premise, including the Six Nations rugby tournament and World Cups. However, domestic sports like Gaelic football and hurling provide opportunities to attract fans all year round, and not just for one-off occasions. The Long Alcoholic Drinks (LAD) category is the most popular segment for sports fans, but there are under-exploited opportunities in spirits categories including vodka and cocktails, the report shows.  
"Live sport is an integral and long-established part of Ireland's On Premise, but brands have plenty of untapped potential for more sales," says Katie Lawton, CGA's senior client manager, Ireland. "Sports fans are among the most engaged and highest-spending visitors to pubs and bars, but to win their loyalty it's vital to understand their specific habits and priorities. Our Sports Report offers some of the best insights yet into this lucrative opportunity and the ways suppliers and operators can collaborate on successful strategies." 
The On Premise Sports Report provides a deep dive into the On Premise live sports market, the behaviour and priorities of consumers watching the events, and the most popular channels and categories. It helps suppliers to identify the key events for activations and the potential to generate trial and trade-ups, leading to effective planning and partnerships.  
Click here to learn more about the On Premise Sports Report and OPUS research, and discuss opportunities for bespoke expert analysis, email Katie Lawton at katie.lawton@cgastrategy.com.