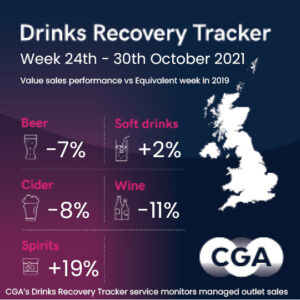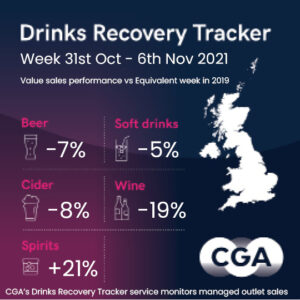 CGA's Drinks Recovery Tracker shows that average drinks sales by value in Britain's managed pubs, bars and restaurants in the week to Sunday (6 November) were down by 3% on the same week in 2019, following a 1% drop in the seven days before that.
This continues a pattern of trading that saw year-on-year drops of 6% and 2% in the middle two weeks of October. Weekly sales have been behind 2019's levels for four weeks in a row now—though they haven't been more than 6% off since the start of September.
After a muted Halloween for the On Premise in 2020, sales were stronger this year, rising by 9% on 2019 levels on the day itself (Sunday 31 October), and by 1% on the two previous days. Another seasonal celebration, Bonfire Night on 5 November, failed to sparkle for the sector, with sales that day dropping 18% year-on-year as people retuned to firework displays that were widely cancelled in 2020.
CGA's data shows that spirits continue to outstrip other drinks categories by a wide margin. Their sales were 21% up on 2019 levels last week, following a 19% increase in the previous seven days—and they soared to remarkable growth of 193% on Halloween. Beer and cider (down 7% and 8%), wine (down 11% and 17%) and soft drinks (up 2% and down 5%) were all much further back over the last two weeks.
While drinks sales figures remain stubbornly short of pre-COVID levels, they also show the resilience of the On Premise in the face of multiple challenges including supply disruption, rising costs, debt burdens and recruitment issues," says Jonathan Jones, CGA's managing director, UK and Ireland. "Halloween was a timely boost for pubs and bars before they start to rev up for Christmas trading, and the stellar spirits market is a positive sign. But with consumer confidence still fragile, venues and suppliers will have to work hard to achieve growth over the final two months of a difficult year."
CGA's Drinks Recovery Tracker service monitors managed outlet sales as the drinking-out market continues to recover, providing category, supplier and brand rate of sale performance versus pre-COVID-19 sales. Suppliers and operators that want to track the recovery of drinks sales, benchmark performance or identify changes in trends and consumer preferences should contact jonathan.jones@cgastrategy.com.