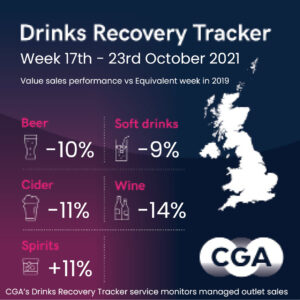 Average drinks sales by value in the seven days to Saturday (23 October) were down by 6% on the same week in 2019, CGA's Drinks Recovery Tracker shows. It is the second successive week of negative figures after a 2% drop last week, and the biggest year-on-year drop since late August.
Trading has come under heavy pressure in recent weeks from issues including recruitment problems, supply chain disruption, fast-rising costs in key areas including food, drink and energy, and backlogs of debt. Consumer footfall and spending may also have been affected by concerns about a surge in COVID cases.
Sales were down on 2019 on every day of last week, hitting a low of -11% on Monday (18 October), and a high of -4% on Saturday (23 October). CGA's breakdown of sales by category shows that spirits yet again performed best, though their 2021-on-2019 growth of 11% was the lowest growth since July. Soft drinks (down 9%), beer (down 10%) and cider (down 11%) were all in decline, and wine recorded its worst week since the end of July, at 14% down.
The On Premise has been impressively resilient over the last few months, but the severe challenges it now faces in staffing, supply and costs are starting to tell," says Jonathan Jones, CGA's managing director, UK and Ireland. "Halloween will hopefully give drinks sales a shot in the arm this weekend, and the buoyant spirits market shows consumers are ready to spend and celebrate this Christmas. However, the latest infection numbers show hospitality's COVID crisis is far from over."
CGA's Drinks Recovery Tracker service monitors managed outlet sales as the drinking-out market continues to recover, providing category, supplier and brand rate of sale performance versus pre-COVID-19 sales. Suppliers and operators that want to track the recovery of drinks sales, benchmark performance or identify changes in trends and consumer preferences should contact paul.bolton@cgastrategy.com.