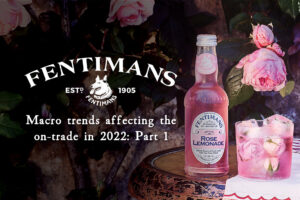 1 Strong growth in premium and mixers
CGA research presented at the webinar showed that On Premise drinks sales have rebounded well since hospitality reopened, with the Coffer CGA Business Tracker reporting 2021-on-2019 growth across managed pubs, bars and restaurants most weeks since 'freedom day' in July. Spirits have powered the market, increasing their share of total drinks sales by 2.2 percentage points on 2019 as consumers turned to cocktails, shots and shooters to celebrate the return of the On Premise.
Mixers have felt the benefit of this trend too, and the Fentimans Soft Drinks and Mixers Market Report shows that they now account for 12% of all sales in the soft drinks category. Premium brands—sales of which were worth £182m last year, or 10% of the total soft drinks and mixers market—are performing well too.
Despite the tough last few years, the premium end of the sector continues to grow, and it is much more of an expectation from consumers than ever before," said CGA client director Dave Lancaster at the webinar.
Not all consumers want to pay for premium though, so all operators and suppliers need to work together to establish the right ranges and pricing ladders.
2 New digital paths to purchase
Fentimans and CGA's report highlights how technology has transformed paths to purchase in drinking out. Apps, QR codes and other digital tools have been widely adopted by operators and drinkers alike since the start of the pandemic, providing fast, convenient and safe ways to order and pay. Two in five (40%) consumers think technology has improved their hospitality experiences, compared to only 11% who think it has made them worse.
COVID has triggered a revolution in the use of technology in hospitality," said Dave Lancaster.
Digital platforms provide operators and suppliers with new opportunities to influence soft drinks purchasing decisions and encourage trial or trade-up. Tim Etherington-Judge, founder of organisations including Healthy Hospo, Avallen and Lassou.com, said at the webinar that ecommerce can also improve the discoverability of new or craft drinks brands.
When people buy online they have a bit more time… they can be far more adventurous in their purchasing, so small brands that leverage ecommerce have done well."
3 A fresh focus on health…
The Fentimans Soft Drinks and Mixers Market Report highlights how many consumers have grown more health conscious since early 2020, with nearly three quarters now trying to lead a healthy lifestyle (73%).
The COVID crisis has been a stark reminder to all of us of the importance of our health and how to protect it," said Neil Donachie, trade marketing manager at Fentimans, at the webinar.
In the On Premise, this translates into a greater interest in drinks with reduced sugar and added health benefits, with Kombucha and drinks offering health benefits poised for more growth. It is anticipated that there will be a new wave of health-focused entrants in the soft drinks market, with consumers looking more closely at the list of ingredients and claims made by brands.
4  And sustainability
Hand in hand with this awareness of health comes an increasing knowledge of sustainability issues, with well over two thirds (72%) of consumers now actively trying to lead an environmentally friendly lifestyle.
The intertwining of these [health and sustainability] issues is really coming to the fore… consumers are aware more than ever that what is good for the planet is also good for them," said Neil Donachie.
The trend is leading to close inspection of packaging and pressure on drinks manufacturers and options to reduce waste, and change is likely to be accelerated by legislative pressures including deposit return schemes. It plays well to eco-spirits like Avallen, but drinks brands ignore the sustainability issue at their peril.
Operators are putting pressure on suppliers to show their credentials," said Neil Donachie, Customer Marketing Manager at Fentimans.
5 New identities and priorities
The report from Fentimans in collaboration with CGA demonstrates the growing importance of personal identities amid escalating tensions among social groups.
Consumers are looking to revaluate what's important to them—their priorities, purpose and who they are… and they're looking to brands with values they can trust," said Donachie.
CGA research shows that a fifth (20%) of premium soft drink consumers now find drinks with good brand values more appealing, and nearly as many (19%) think it is important that drinks brands are trustworthy—up by two percentage points in less than a year.
New priorities are also leading to a revival of interest in localism and craft in soft drinks, with a quarter (26%) of consumers buying more local produce than they were a year ago. This makes it important for venues to stock a sufficient range of smaller, locally focused brands—especially those that can demonstrate their local heritage and craft credentials.
The Fentimans Soft Drinks and Mixers Market Report combines Fentimans' extensive experience in the drinks market with CGA's market-leading suite of research sources to explore more key developments and trends in the market. You can read the 2022 report in full here.