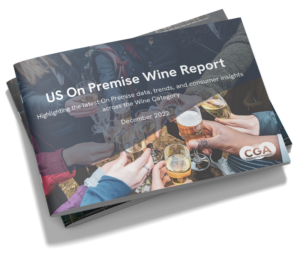 Wine remains one of the most popular consumed beverages in the On Premise, despite losing slight share to beer and spirits over the past year. In fact, wine is second only to beer of consumer preference in the On Premise channel.
The good news is the US On Premise sector continues to grow, showing a +2.3% increase in total outlets by December 2022 compared with the same period a year ago. This includes the rise of dining (+2.1%) and drinking (+2.8) outlets at a total US level.
Wine's popularity continues to be affiliated with food-led occasions. This is confirmed by the high percent of its total On Premise sales in 2022, which came from dining outlets versus drinks-focused outlet types.
Polished casual dining outlets (+5%), Sports bars (+4.7%) and Neighborhood bars (+3.3%) have shown outlet count growth among outlet types that sell wine, potentially moving the needle towards other types of wine, such as sparkling and white. But traditional wine opportunities, like red wine in fine dining establishments, may continue to shift slightly in the opposite direction, with openings of Fine dining outlets continuing to trend down (-4% vs. YA) over the course of 2022. Consumer demand for Fine Dining remains high, driven by premiumization trends, and with fewer outlets, it makes points of distribution (PODs) more lucrative.
Last year saw the Wine category slightly in decline versus Beer and Spirits in the On Premise, losing 0.7 percentage points. This downward trajectory was led by table wine, the largest sub-segment of the category, which lost -4.2%. On the other hand, sparkling wine gained +1.2pp share from table wine, increasing by +8.3% in volume (9L eq.) vs. the same period a year ago.
Elsewhere, some interesting trends have developed around the red, white, and sparkling wine types. Domestic red wine not only carries a large share of the red category, but has also broadened the gap compared with wines sourced from outside of the US. Conversely, domestic white and sparkling wines have lost share compared to their exported counterparts, with French, Spanish and New Zealand white and sparkling wines making share gains.
Looking at the whole picture, 27% of US On Premise visitors drink wine. In addition, the average wine drinker spends more in the On Premise than their beer and spirit drinking counterparts. What's more, On Premise wine drinkers have an eye for premiumization, with nearly 1 in 2 people saying they are likely to pay more for a better-quality drink – much higher than any other category drinker, rounding up a set of compelling analytics for wine suppliers to target proactively in bars and restaurants.
Andrew Hummel, Client Solutions Director – Americas said: "What is essential for wine brands is understanding how to drive consumption into new segments and recruit new drinkers, plus the role that venue type can play in both instigating trial and facilitating trade-up in this space. By strategically getting the right types of wines in front of the consumers groups that are demonstrating growing appetites, there are outstanding opportunities to build brand equity and amplify market share."
Delving into consumer research, sales data, and using channel strategy research, CGA's new On Premise Wine Report highlights the latest data, trends and insights across the Wine category. Click here to download more information, or get in touch with Andrew Hummel – andrew.hummel@nielseniq.com