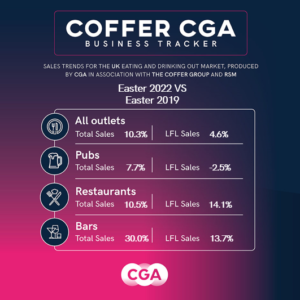 The Tracker, which is produced by CGA in partnership with The Coffer Group and RSM, shows groups' like-for-like sales over the Easter weekend were 4.6% ahead of the same period in 2019. It follows modest growth for the managed sector in both March and February.
Given the high temperatures and clear skies of the comparable Easter period, it was a strong performance—especially for restaurants and bars, where like-for-like sales were up by 14.1% and 13.7% respectively on 2019. However, this year's cooler weather led to much emptier beer gardens and made it a much tougher Easter for pubs, where like-for-like sales were 2.5% down.
The Tracker also shows how deliveries and takeaways helped drive the growth. With some consumers opting to stay in rather than go out over the long weekend, eat-in and drink-in sales were only 1.1% ahead of 2019's levels.
Karl Chessell, director – hospitality operators and food, EMEA at CGA, said: "This is a mixed bag of trading figures for what is always a crucial time of year for operators. Double-digit growth for managed restaurants bodes well for their post-COVID-19 recovery, but the cool weather meant pubs missed out on what could have been a bumper weekend, and soaring costs are making it tough for all groups to achieve inflation-adjusted growth at the moment."
The Coffer CGA Business Tracker, produced by CGA in partnership with The Coffer Group and RSM, aggregates data from Britain's leading restaurant, pub and bar groups to produce valuable insights into sales trends. Participating companies receive a fuller detailed breakdown of monthly trading. To learn more, or to join the cohort, contact Andrew Dean at andrew.dean@cgastrategy.com