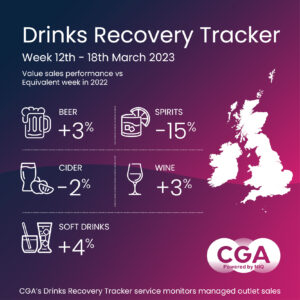 CGA by NIQ's Drinks Recovery Tracker shows average sales by value in the week to last Saturday (18 March) were 2% behind the same week in March 2022. This is a slight improvement on the year-on-year drop of 3% over the previous seven days—but after adjustments for inflation sales are still substantially below last year's levels. 
Train strikes last Thursday (16 March) dealt a major blow to footfall in town and city centres and sent sales plunging 26% below the equivalent day in 2022. There was some bounceback on Friday (17 March), with sales rising 15% as some consumers made up for pub and bar visits they had missed the previous day. Damp and windy weather in much of the country held down trading on most other days of the week—including Saturday (18 March), when sales were down 7% year-on-year.  
"A 26% drop in sales indicates the effect that rail strikes have on the out of home sector," says Jonathan Jones, CGA's managing director, UK and Ireland. "News of more high inflation this week is a reminder of the soaring costs that face consumers and businesses alike, and with little respite to those pressures in sight it will be a challenging Spring for many businesses in the sector."

The Drinks Recovery Tracker's breakdown of sales by category shows beer (up 3%), wine (up 3%) and soft drinks (up 4%) were all in year-on-year growth. Cider sales dipped 2% and spirits fell 15%—their worst result since the start of the year. 
CGA's Drinks Recovery Tracker monitors managed outlet sales as the drinking-out market continues to recover, providing category, supplier and brand rate of sale performance versus pre-COVID-19 sales. Suppliers and operators that want to track the recovery of drinks sales, benchmark performance or identify changes in trends and consumer preferences should contact jonathan.jones@cgastrategy.com.