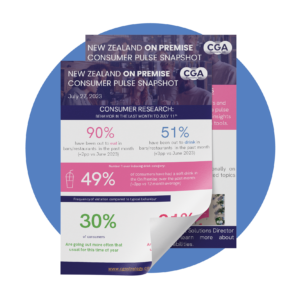 The Pulse+ Report offers key bartender insights prior to the upcoming New Zealand OPUS Spring Survey available from December 2023, which is set to dig deeper into the significance of bartenders. Covering not only the impact they have on the overall consumer experience in the On Premise, but also their influence on consumer drinks choice and preferences.
Half of consumers (50%) rank the quality of service delivered by bartenders as a key element of an exceptional On Premise experience. This aspect is only bettered by the quality of food on offer, surpassing other factors, such as the quality of drinks and the entertainment offerings provided.
When reviewing this by age group, it becomes clear the value of quality bartenders increases as consumers mature. Quality of food is valued most amongst all age groups, followed by quality of service from bartenders and staff amongst 35–45-year-olds and 55+ consumers, whereas 18–34-year-olds place a greater onus on drinks than service.
This verifies bartenders as an integral aspect of the On Premise experience, with just under 6 in 10 consumers engaging with them every time they go out. Additionally, 60% are open to altering their usual drink orders based on staff recommendations, demonstrating the high level of trust placed in bartender knowledge and expertise.
With this insight in mind, venues might think about prioritising training for bartenders and other staff, because these frontline personnel are vital to building rapport with customers. What's more, the high level of trust consumers have in bartenders makes them an appealing proposition for the brands on offer within venues, for optimising awareness, engagement and sales.
For these purposes, working with operators and their bartenders can open previously untapped avenues or reinforce existing ones. For example, increased awareness and visibility due to advocacy is a key consideration. Additionally, there are compelling opportunities to utilise bartender relationships and devise incentives to push certain menu items, ensure successful promotional campaigns, roll out new or seasonal products, and nurture sustainable brand equity.
Ultimately, knowing what makes bartenders tick is a chance for both drinks suppliers and operators to take a more strategic approach. This might entail including bartenders in their On Premise strategies to leverage the final touchpoint in the consumer path to purchase.
Tom Graham, Senior Manager – Client Success and Solutions said: "Harnessing bartender engagement and rapport can help brands and suppliers gain a distinct advantage, bolstering product placement and fostering stronger brand recognition within the bartender network. Exploring this dynamic, the forthcoming OPUS Spring Survey delves into the wealth of opportunities for forging connections with industry operators, in turn fostering advocacy among influential bartenders and staff, who wield considerable influence over consumer preferences."
CGA by NIQ's upcoming OPUS (On Premise User Survey) unlocks vital On Premise insights to further understand the importance of bartenders, perceptions and satisfaction of current bartender knowledge, the impact of positive experiences and more. Get in touch with Tom Graham, Senior Manager – Client Success and Solutions– ANZ for more information Tom.Graham@nielseniq.com.​
Find out more about the New Zealand Pulse+ Reports here or download a download more information and examples of the data and insights included in CGA's Pulse+ subscription here.