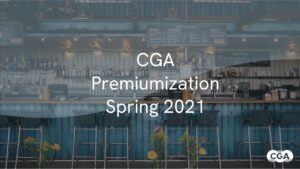 Consumers willing to spend more on better quality drinks  
As consumer visits continue to grow, understanding purchasing behaviors and patterns are becoming extremely important as operators look to meet the requests of their patrons.  
One particular theme that is being captured in CGA's latest research is the want and willingness of consumers to spend on premium offerings. 35% of On Premise consumers say that they are likely to pay extra for a better-quality drink when making their visits. The most frequent visitors to the trade are 21–34-year-olds, and this behaviour is seen by nearly half (48%) opting for a premium drink.  
4 in 10 Spirit category drinkers trade up every time/almost every time, with Tequila (53%) leading this behaviour, followed by Whiskey (47%), Hard Seltzer (45%) and Vodka (41%). This indicates that there is still tremendous value in these offerings to encourage this behavior and capitalize on additional spend. As the emergence of Hard Seltzer's continues to grow, this particular offering showcases a unique opportunity to carve out its space within the On Premise Channel. 
As evidenced in previous CGA research, the prominence of the food occasion sheds some light into the drink categories consumers are most likely to pay extra for – with Wine the leading category (51%) followed by Beer (41%).  
Drivers to paying for better-quality drinks 
Special occasions have long been a key role in visiting the On Premise and due to the absence of this throughout the pandemic, it stands in good reason why this is the leading factor in choosing to pay more for better quality drinks (45%). This outweighs the likes of monetary factors such as pricing (41%) and special offers/discounts (32%).  
Consumers prone to trading up in the On Premise carry out this behavior across a range of venues, with Fine Dining (31%) being the one channel where consumers behave this way more than the average (+8pp vs the average). Several drink-led outlets speak to this as well, with group visitation, and event-based visitation being key factors of this behaviour.  
Mitch Stefani, Client Solutions Manager, Americas, said "Operators must understand the demands among consumers as they make their coveted visits back in the On Premise. It's crucial for suppliers to support them in conducting the right strategies to effectively deliver on these behaviors, and ultimately guide the right decisions on assortment of product to maximize their value in making up from lost visitation during the pandemic." 
CGA continues to dive into analysis of understanding changing consumers' wants and needs from a drinks offering, and how these behaviours have changed from pre-COVID-19.  
To learn more about CGA's consumer reporting and how it can help suppliers and operators understand the demands and habits of target consumers in the reopening of the On Premise, please contact Mitch Stefani at mitch.stefani@cgastrategy.com