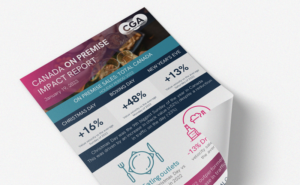 The report highlights how visitors to bars and restaurants are indulging in premium products, despite cost-of-living challenges. With consumers leaning towards quality over quantity, it shows a real opportunity for premium brands to make waves in the Canadian On Premise, in defiance of ongoing challenges.  
The most promising opportunities lie within the spirits categories, particularly for Tequila, Gin, and Whiskey.  
Overall, there is a positive outlook on On-Premise visits, as consumers have demonstrated increased satisfaction with the value for money since June 2023. This is encouraging for premium brands, indicating a growing appreciation and appetite for indulging in small luxuries, even if they come with higher price tags. 
Mitch Stefani, Client Solutions Director – Americas said: "Premium Spirits continue to attract consumers when out, and the next few months will be telling on how premiumization transitions into 2024. Bar and Restaurant sales traditionally begin to slow in the fall leading into the Winter months, following peaks in the summer. What's worth monitoring is how premium spend may shift in offsetting the slight decline in foot traffic during winter months." 
CGA by NIQ's Canada Impact Report provides the latest robust, tried and trusted leading solutions supporting the BevAL industry in Canada. It answers questions about purchase intentions for consumers in bars and restaurants, how consumers are engaging with brands/categories, the size and scale of the On Premise channel in Canada, and the areas of the Canada On Premise for best coverage and increased distribution. To learn more about OPUS Canada and also the upcoming OPUS survey available in Fall 2023, contact Mitch Stefani, Client Solutions Director – North America at Mitch.x.Stefani@nielseniq.com. 
To find out more about CGA's Impact Reports, click here to download the information pack, or for a snapshot of the most recent On Premise Impact Report, click here.