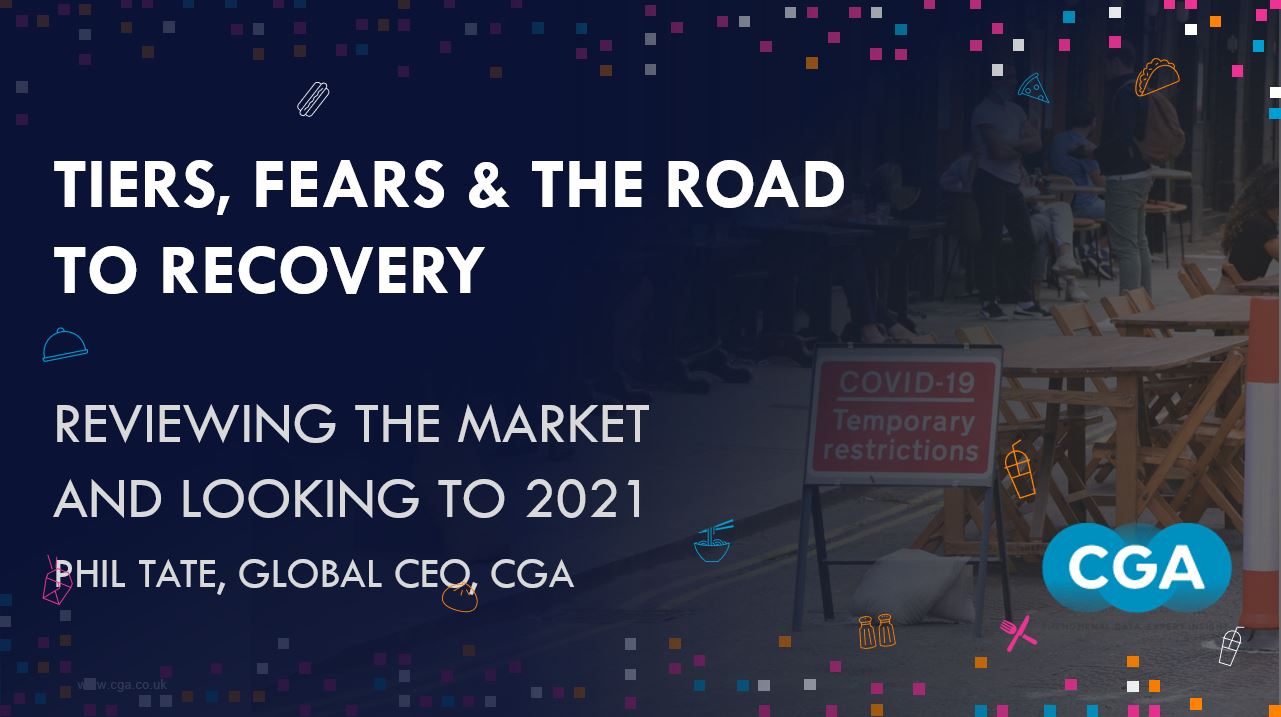 CGA's group chief executive Phil Tate set the scene for our Big Peach 2020 Digital Experience with a definitive overview of the out-of-home eating and drinking sector. Here's how the market looks after a tumultuous year—and why there might be brighter times ahead.
£53bn
The year-on-year shortfall in sales in the UK hospitality sector, according to the Quarterly Tracker from UKHospitality and CGA. It equates to a 40% drop in annual turnover. "It's been an incredibly challenging year for everybody," said Phil Tate. "It feels like the sector has been through a 12 round war with Mike Tyson—but he had a baseball bat as well."
1 in 5
The proportion of on-trade outlets that had not reopened by the start of October—equivalent to around 22,000 sites. The Market Recovery Monitor from CGA and AlixPartners shows that nightclubs and bars have been particularly badly hit, along with sports and social clubs. Business leaders indicate that many of these closed sites will never reopen—but while that's a major blow for some operators, it also reduces capacity and provides property opportunities for others. "We've seen the competitive landscape changing virtually daily," said Tate.
88 million
The number of eating and drinking-out visits that CGA's BrandTrack data estimates were lost in the third quarter of 2020. Put another way, for every five visits that were made to the on-trade last year, there have been three in 2020. This reflects caution after national and local lockdowns and the succession of new restrictions on socialising and trading—though as strong trading in the last week of October showed, core consumers remain eager to visit restaurants, pubs and bars.
15%
The proportion of business leaders who feel confident about the general out-of-home market for the next six months, according to the Business Confidence Survey from CGA and Fourth. A survey of members of UKHospitality, the British Beer and Pub Association and the British Institute of Innkeeping meanwhile found that 48% think their business will become unviable by the second half of 2021 if current levels of sales and support continue.
46%
The proportion of consumers who say they are visiting local venues more often since the end of the first national lockdown in July. This has made trading tough for city centre venues, but locally-focused operators like Brewhouse & Kitchen and Loungers have been nimble in responding to consumers' concerns. Staying right on top of these changing habits is vital, Tate said. "We need to make sure we're attuned to the new missions that people are coming in for, and adapt ranging and pricing accordingly."
68%
The proportion of consumers who told CGA's latest BrandTrack survey that hospitality gives them something to look forward to. Nearly as many (57%) say venues positively contribute to their wellbeing, and this strength of attachment to the sector gives us cause for optimism about the long-term future. "We are loved by consumers… I can't see banking getting those same kind of figures," Tate said.
55%
The percentage of consumers who feel safer in hospitality venues than they do in shops and supermarkets, according to CGA's latest Consumer Pulse poll. CGA's research in China as well as the UK has consistently shown high levels of confidence in safety and hygiene—and that is crucial in encouraging post-lockdown visits. "People feel confident about staying safe in our environments—the key is helping unconfident people come and try us—and the good news is we're seeing progress there," Tate said.
£26.99
The average amount that consumers will pay for restaurant-standard cook-at-home meal kits, according to the Consumer Pulse survey. This indicates that while the market has been polarized and some people are now sharply focused on value, others will still be willing to pay a premium for a high-quality experience when they get back to eating or drinking out.
25/12
Christmas Day delivered the biggest single-day sales of 2019, CGA's Trading Index shows. That highlights the urgency of salvaging Christmas sales, said Phil Tate. "It's absolutely essential we get to trade to some degree to get that injection of funds that we need to see us through a couple of difficult months."
75%
Proportion of the consumers in China visiting on-premise venues for the annual Golden Week celebrations who said they were making up for missed celebrations earlier in the year. There is a similar pent-up demand for the festive period here. "We're being missed. People are missing being able to see friends and family in our venues, missing getting out of the house, missing the atmosphere and missing someone else waiting on them… they're longing for us to get back." It's a reason to be upbeat about December and beyond. "As the expression goes, when you're going through hell, just keep going," Tate concluded. "We've got a hard couple of months ahead of us, but we genuinely believe the sector will pull through this crisis."
CGA's Big Peach 2020 Digital Experience was supported by platinum partners Asahi UK, Caterer.com, Fourth, Zonal, RSM, Coffer Corporate Leisure and Diageo; and network partners Nestle, Freeths, Yumpingo, Chapman Ventilation and CPL Online