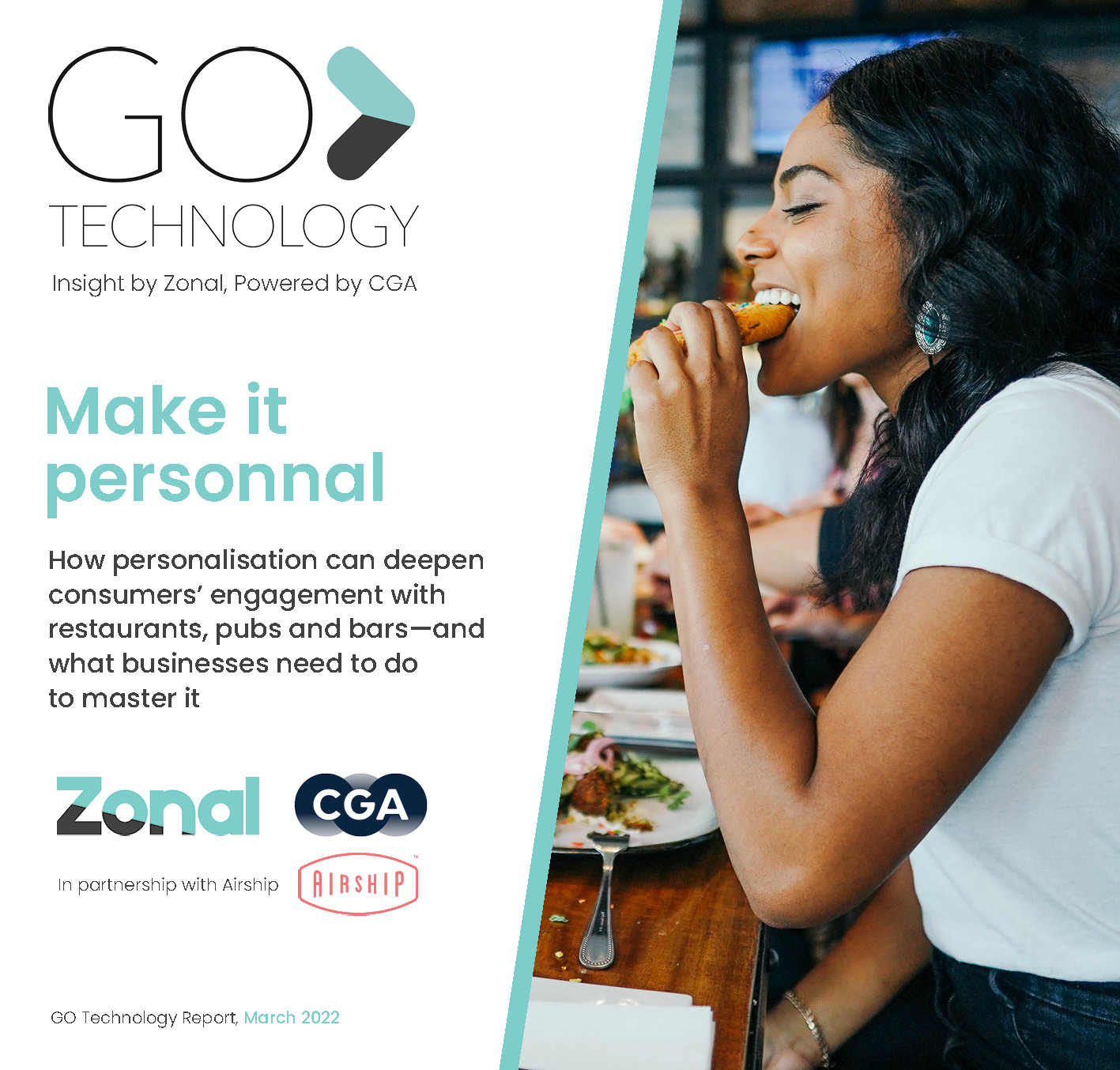 CGA's Karl Chessell joined Zonal's Olivia FitzGerald and Airship's Dan Brookman at a special webinar to discuss the research: here are five of their top messages.
1 Four in five consumers want personalisation
The headline stat from the 'Make it Personal' report is that 80% of consumers are interested in some form of personalisation from pubs, bars and restaurants. "It's becoming a mainstream expectation that you get some kind of personalisation," said Zonal's chief sales and marketing officer Olivia FitzGerald.
2 People want tailored rewards
Financial incentives are the main drivers of interest in personalisation. Just over a quarter (29%) of consumers say customised offers, promotions and loyalty schemes appeal to them—though non-monetary perks like recommendations, priority seating and order updates can be attractive too. "People expect to see a reward when they sign up to something," said Airship's CEO Dan Brookman.
3 Data protection is crucial
The report highlights resistance about sharing data without guarantees of protection. Two thirds (64%) of consumers could be persuaded to share more data in order to personalise their visits, providing it isn't shared for other purposes. "Transparency is really important," said Karl Chessell. And some data is off limits. Nearly half (47%) of consumers will tell venues about their favourite drinks, and many will supply generic information like birthday (42%) and gender (39%)—but there is wariness about sharing addresses (11%) and parental status (11%), especially among women.
4 There's a generation gap
Views on personalisation and data vary widely according to age. Only one in ten (9%) of those aged 18 to 24 have no interest in personalisation, but the number soars to nearly half (46%) of people aged 65 or over, who are also much less willing to share personal data. It's still possible to reach older demographics though. "It might be more difficult to persuade those people to join your database… but they can be a very loyal and engaged audience once they're on board," said FitzGerald.
5 Personalisation is a journey
Knowing the demographics of guests is a good start, but proper personalisation requires deeper knowledge, Chessell said. "If we're going to get to true personalisation, we need to go beyond age and gender… to the behavioural information that you can gather over time. It's a journey—segmentation is a good start, but the ultimate goal is to get to that one-to-one relationship."
You can watch a full replay of the 'Make it Personal' webinar here. The 'Make it Personal' report is part of GO Technology, Zonal and CGA's joint research platform that reveals consumers' attitudes to technology in the On Premise. To read the report in full, click here. For more information about GO Technology, please email info@zonal.co.uk