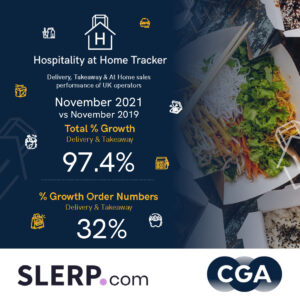 The Tracker shows that November saw Britain's leading managed restaurant and pub groups record a 97% increase in sales by value compared to the levels of November 2019. Sales were just 1% below November 2020, when businesses were subject to much tougher restrictions on eat-in trading than they are now.
November's research from CGA and Slerp shows delivery sales were 192% higher than in 2019—far outstripping the 25% growth in takeaways. This reflects consumers' switch from picking up food to having it delivered to their door, a trend boosted by lockdowns and the popularity of third party delivery providers.
While 2021-on-2019 growth has slowed since hospitality venues reopened earlier this year, deliveries and takeaways are likely to attract another wave of interest over the last few weeks of 2021. As anxiety about the spread of the Omicron variant of COVID-19 mounts and people are working from home where possible, many consumers are likely to consider ordering food in instead of eating out.
Combined, deliveries and takeaways accounted for just over 28 pence in every pound of spending at managed groups in November 2021. Growth in this sector continues to be much higher than in eating and drinking out, with the November edition of the separate CGA Coffer Business Tracker—which has a different cohort of contributing companies—indicating that managed groups grew their sales by just 2% from November 2019.
Karl Chessell, CGA's business unit director – hospitality operators and food, EMEA, says: "COVID-19 concerns threaten to badly damage the eat-in and drink-in sales of Britain's restaurants and pubs this Christmas, but at-home sales could prove a lifeline to many fragile businesses. Deliveries and takeaways are now deeply embedded in consumers' habits, and December is likely to give them fresh impetus. This sector is going to be a crucial battleground for all operators and suppliers as we enter 2022, and understanding consumers' attitudes and preferences will be pivotal to success for all players."
Slerp founder JP Then says: "It is almost certain that Plan B is the start of a period of further restrictions. Already we can see that pre-orders are on the rise, and online ordering will be an even more crucial channel in the coming weeks and months as people's plans change. It is essential that operators ensure they are clearly communicating online purchasing options to their customers wherever possible."
The CGA & Slerp Hospitality at Home Tracker is the leading source of data and insight for the delivery and takeaway market. It provides monthly reports on the value and volume of sales, with year-on-year comparisons and splits between food and drink revenue. It offers a benchmark by which brands can measure their performance, and participants receive detailed data in return for their contributions.
Partners on the Tracker are: Azzurri Group, BrewDog, Burger King UK, Byron, Cote Restaurants, Dishoom, Gaucho Grill, Giggling Squid, Honest Burgers, Nando's Restaurants, PizzaExpress, Pizza Hut UK, Prezzo, Rosa's Thai, TGI Fridays UK, The Restaurant Group, Tortilla, Wagamama and YO! Sushi. Anyone interested in joining the Tracker should contact Karen Bantoft at karen.bantoft@cgastrategy.com.
About CGA:
CGA is the definitive On Premise measurement, insight and research consultancy that empowers the world's most successful food and drink brands. With more than 30 years' experience and best-in-class research, data and analytics, CGA is uniquely positioned to help On Premise businesses develop winning strategies for growth.
CGA works with food and beverage suppliers, consumer brand owners, wholesalers, government entities and pub, bar and restaurant retailers to protect and shape the future of the On Premise experience. Its mission is to use phenomenal data and expert insights to give brands a competitive edge and ensure the market we love is the most vibrant possible.
About Slerp:
Slerp is the leading online ordering solution and digital growth platform for the hospitality industry. Built for operators by operators, Slerp empowers hospitality businesses to take ownership online, shaping the future of hospitality with digital innovation.
Trusted by renowned operators, from restaurants to hotels and bakeries, Slerp offers a tailored solution that lets businesses sell direct from their websites and social channels to everyone, everywhere.
With online ordering, order at table, loyalty apps and digital marketing services, Slerp has all the solutions to diversify revenue streams and future-proof growth online.
To learn more, visit www.slerp.com