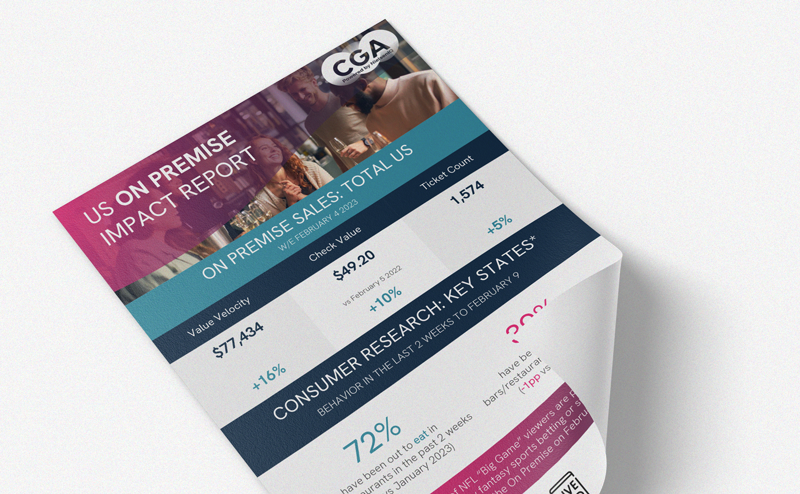 Non-alcoholic drinks continue to be a success story that brands and operators can't afford to ignore. Almost half of consumers perceive traditional soft drinks to be the most reasonably priced non-alcoholic category in venues currently. But what's really whetting guilt-free appetites? Mocktails are leading the pack in the non-alcoholic drinks sub-category. Plus, almost half of non-alcoholic beer drinkers are enjoying the category more frequently when out in bars, restaurants and other venues.
Interestingly, almost half of consumers typically look at the non-alcoholic drink section of the menu, with slightly less claiming they're seeing more non-alcoholic drinks options compared to a year ago. This strongly points to opportunities for relevant brands, as the category continues to gain momentum.
Whilst approximately half of consumers haven't changed their year-on-year non-alcoholic drinking habits in the On Premise, a third or more are drinking more mocktails, non-alcoholic beer and non-alcoholic spirits. The least increase can be seen in the traditional soft drinks category, demonstrating the shift in consumer preferences for a more stylish non-alcoholic beverage.
Matthew Crompton, Regional Director – North America, said: "It's clear that non-alcoholic drinks are no longer just for January. As a result, the category offers significant opportunities for increased profitability across many occasions, and appeal to consumers who will continue to visit the On Premise without alcohol in the equation. This is a prime example for suppliers and operators to ensure they are armed with the latest insights and data, underlining the importance of understanding changing consumer behaviour to build effective strategies".
CGA by NIQ's US Consumer Pulse Report provides brands, suppliers and operators with subscription access to frequent updates on consumer behaviors and sales velocities. It is purpose-designed to empower the industry, by keeping a pulse on the latest insights derived from a variety of CGA's best-in-class data tools. To find out more about CGA's US On Premise Impact Reports and consumer research solutions, get in touch with Matthew Crompton – matthew.crompton@nielseniq.com.