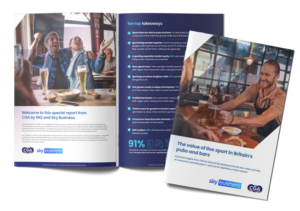 The exclusive survey of consumers shows people who watch live events spend 36% more on eating and drink out per month than those who do not. Nearly nine in ten (87%) say they stay out longer than usual when a live game is on, while even more (89%) are more likely to revisit a venue if they know it screens sports. Live sport also connects friends and families, with three quarters (75%) of viewers watching with bigger groups than they would usually socialise with on non-sporting occasions. 
The survey uncovers the sports people watch in pubs and bars. It highlights the huge popularity of football—the most watched sport ahead of rugby union, boxing, cricket and Formula 1—and interest in the English Premier League, consumers' most followed competition, which starts again on Friday 11 August. 
The new report, 'The Value Of Live Sport in Britain's Pubs and Bars', also features an in-depth survey of pub landlords, managers and owners. It reinforces the value of live sport to venues and the risk of neglecting it, with four in five (82%) believing some guests would go elsewhere if they stopped screening games. Other insights from the new report include: 
Women's sports are increasingly popular in pubs and bars

. Half (

48%

) of venues plan to screen more games over the next few months—providing a great opportunity to bring more women and families into venues. 

 
Free and fast WiFi is an essential part of the pub and bar experience

. More than four in five (

85%

) of those who watch sport in pubs and bars expect free WiFi access, and nearly two thirds (

64%

) say a poor connection makes them less likely to return.

 
Sky Sports is Britain's top provider of live sport

. Nine in ten (

90%

) sports viewers think Sky Sports is the best broadcaster of live events, and a similar proportion (

91%

) consider it to be the home of the English Premier League.

 
Andy Dean, CGA by NIQ's client director – hospitality operators and food, said: "This research confirms the enormous value of live sport to Britain's pubs, bars and drinks suppliers. These venues give people memorable and communal experiences that simply can't be replicated at home, especially during major football competitions, and these occasions not only boost spend but improve reputation. With businesses and households alike facing major cost pressures it's more important than ever to provide compelling reasons to eat and drink out, and investing in live sport is an excellent way to keep people coming through the doors." 
Damian Saunders, Managing Director of Sky Business Hospitality said: "At Sky Business, we're all about bringing our customers unmissable TV content and connectivity so they can provide the best experience for their customers. 
"As we head into a new football season, we wanted to get a barometer of how people value sport and the role it plays, whether they are behind the bar or in front of it.  
"There's nothing quite like live sport when it comes to bringing people together. Whether your customers are hard core sports fans, follow an individual team or player, or just casually watch from time to time, watching live sport in a pub is undiminished and plays a key role in creating a great atmosphere and connecting people from all walks of life. 
"By investing in the live sport that really matters, Sky Business helps licensed premises drive more revenue. Sports fans spend more than other pub goers, they stay longer, and they keep coming back for more." 
'The value of live sports in Britain's pubs and bars' report from CGA by NIQ and SKY Business brings together insights into engagement with live sport in Britain's licensed premises, highlighting the significant benefits for both venues and suppliers. Click here to download more information, or get in touch with CGA client director Andy Dean at andy.dean@nielseniq.com.