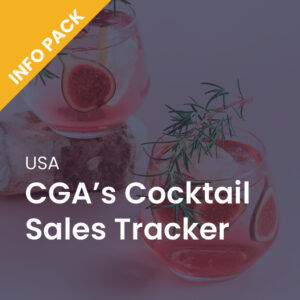 The Cocktail category continues to flourish for outlets across the US On Premise, boosting average earnings in Q1 2023 vs Q4 2022 by +3% to $11,700. This uplift can be attributed to a promising increase in both traffic (+4%) and check value (+$0.50).  Strong weekend performance has been a key driver behind this uplift, with both Saturday (+10%) and Sunday (+5%) performing well compared to the previous quarter. 
Continuing to hold onto the top spot, Margaritas remain the country's most popular cocktail. The Moscow Mule has reclaimed the #2 spot in the Top 10 Cocktails in the latest quarter, moving the Martini back into third place.  
CGA's previous quarterly cocktail tracker highlighted that the Espresso Martini nearly doubled in velocity over the past year. With a quarterly growth of +11%, Espresso Martini has overtaken Long Island Iced Tea to become the sixth most popular cocktail.  
The biggest jump in the top 30 cocktails included in the CGA Cocktail Tracker is Spritz, which moved up 4 places to the 11th most popular cocktail type, with a +36% increase in velocity.  The increase is most pronounced in Florida as it saw a triple-digit increase vs Q4.          
When looking at total cocktails by state, Nevada remains the top performer for the average outlet, and boasts a +6% growth since Q4. Texas is now the 2nd most valuable state for cocktails, overtaking California. This increase is thanks to strong early evening sales (up +18% vs Q4), although velocity is up consistently over the entire day. 
Andrew Hummel, Client Solutions Director – North America, said: "Our latest tracker results demonstrate the consistently changing dynamics of the cocktail category, as well as the influence of changing consumer preferences and drinks choice has on velocity performance. Espresso Martinis are growing in popularity at an unprecedented rate, understanding the motivations and behaviors of these cocktail consumers is vital to ensure a winning strategy throughout the rest of the year."
CGA's Quarterly Cocktail Sales Tracker is available to purchase now. Delivered as a quarterly report, the tracker is powered by CGA's BeverageTrak, and ensures suppliers can understand the evolving cocktail sales dynamics over time to maintain a winning cocktail strategy in the On Premise.
For more information on the Cocktail Sales Tracker, click here, or contact Andrew Hummel at Andrew.Hummel@nielseniq.com
Source: CGA BeverageTrak Cocktail Tracker Q1 2023 report