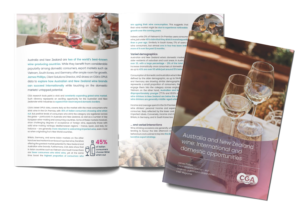 CGA's latest OPUS data, crowns Italy as the market with the most consumers who drink wine in the On Premise, with 45% of Italian consumers choosing wine when out. But positive levels of consumers who drink the category are registered across the globe – particularly in Australia and New Zealand, as well as a number of key European wine-making and consuming countries.
Some of these markets, however, show challenging degrees of acceptance of foreign wine, especially those with solid wine-making heritage. Mediterranean regions – France, Spain, and Italy, for instance – are generally more reluctant to welcoming imported wine, even more so when originating from New World countries.
Australian and New Zealand wine's domestic market tends to be dominated by older residents of suburban and rural areas. In Australia, 67% of wine drinkers are over 35, with a large percentage – 21% of the total – being over 65. The figures increase dramatically once consumers of domestic and Kiwi wine are singled out, as up to 43% are over 65 while just around 15% below the age of 35.
Wine drinking occasions are generally uniform across these markets, with imbibers tending to favour the late afternoon or evening hours. Looking at local eating behaviours and cuisines to tap into the dining occasion might turn into a potentially lucrative export strategy.
Unlike time of consumption however, consumers' motivations to interact and engage with the wine category diverge considerably across markets. When out of home, the average Australian, New Zealander, and British drinkers order wine mainly to enjoy themselves, to relax, and to socialise with peers. Meanwhile, around 30% understand wine as a treat or as something that should be savoured.
In Australia and New Zealand, consumers are particularly price-sensitive, as around 40% look for bottles that they feel are worth the cost. At the same time however, over one out of four are primarily interested in the liquid's perceived quality, while some rely on the reassuring effect of familiar brands.
In countries that are still relatively unaccustomed to Australian and New Zealand wine (ranking 5th and 9th respectively in Vietnam, 7th and 11th in Germany, and 6th and 9th in South Korea), a deep understanding of grape variety trends is paramount to develop efficient sales strategies. Providing consumers with varieties they can resonate with can help them familiarise with lesser-known wine regions, and generate sufficient brand trust to lure them into different wine styles further down the line.
James Phillips, Client Solutions Director – ANZ, said: "CGA's OPUS research helps paint a vivid and constantly expanding global wine market. Such vibrancy represents an exciting opportunity for the Australian and New Zealander wine industries to expand their reach beyond domestic borders. Our insights exploring the Wine category in depth enables producers, suppliers and operators to optimise their On Premise strategies for growth."
CGA by NIQ's On Premise Wine Report uses OPUS data to delve into the opportunities of the Wine category in the On Premise. Tailored to answer the most frequently asked questions and assessing the impact of the latest trends around On Premise Wine, the report is a must for any supplier, operator or manufacturer looking to understand the changing subtleties of the Australian out-of-home wine sector for success in 2023 and beyond. For more information contact James Phillips at James.phillips@nielseniq.com.

Originally published in Global Drinks Intel Magazine