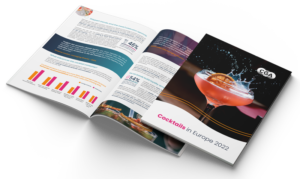 Consumers across Europe have been drinking more cocktails versus last year, with a significant 31% of European consumers typically drinking cocktails (+3 percentage points higher versus 2021) when they visit the On Premise, with this varying significantly across different markets. In France, 41% of consumers typically drink cocktails when out at cafes, bars, and restaurants while in Great Britain this figure sits at 31%, and at 26% for Portugal.
The Mojito remains the most popular choice in the European On Premise, with almost half of consumers across Europe choosing it – and a significant 64% of consumers in Spain ordering it. However, tastes have continued to evolve within the Cocktail category, with some serves seeing significant shifts versus 2021 – such as the Espresso Martini increasing in popularity in Italy (+3 percentage points), while it dipped in Great Britain (-5 percentage points) and in France (-1pp).
The Pornstar Martini, famously created in London in the early 2000s, continues to grow from strength to strength in Great Britain (up +4 percentage points), however it also saw an uptick in Italy (+1pp versus 2021), yet dropped significantly in Germany (down 6 percentage points).
Consumption in Italy is driven by the country's widespread aperitivo culture, with the Aperol Spritz maintaining its dominance as the most popular cocktail with 46% of Italian consumers drinking it – however this serve has also continued to grow in popularity across other markets. Notably in France, 23.7% of consumers enjoy the Aperol Spritz – an increase of 4.2 percentage points year-on-year while nearly a third of German consumers, and 34.9% of consumers in Switzerland also opt for this popular spritz.
Graeme Loudon, managing director – EMEA, said: "It's clear that although the Cocktail category has continued to grow in popularity with European consumers in the On Premise, tastes can shift dramatically within a short amount of time. Consumers are continuing to explore different flavour profiles, categories and brands and drinks suppliers need to consider how to adapt their positioning across these different markets to capitalise on new trends."
Click here to download the Cocktails in Europe report, or to learn more about how CGA by NielsenIQ's Mixed Drinks Report can support the sales and marketing strategies of all suppliers and operators, contact Graeme Loudon at Graeme.loudon@cgastrategy.com